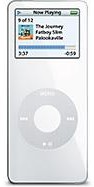 ThereminWorld and Spellbound are excited to announce a joint contest in which one lucky winner will win a free 2GB iPod nano
pre-loaded with episodes of Spellbound, the weekly Internet radio show for theremin music!

The contest starts tonight and runs for the next 4 weeks. To enter, you must be a registered member of ThereminWorld.

Read on for more information and details on how to enter...