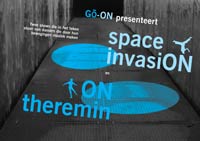 Thereminist and performance artist Wilco Botermans is at it again!



Art Production houses Generale Oost (GO) and Oost Nederland (ON) present the theremin dance performance "I don't remember what time it was". In this performance David Brandstaetter, Malgven Gerbes (choreography and dance), Wilco Botermans (installation and music) and Julien Crepieux play in an interactive environment where themovement of the dance controls the music.


If you saw or heard about Wilco's amazing effects pedal demonstrations at Ethermusic 2005 and you're in the area, you'll definitely want to check this one out.

Read on for dates and more details...