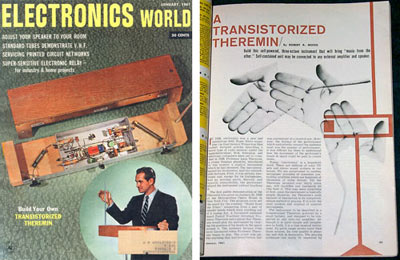 Original copy of 1961 Electronics Magazine including Bob Moog's land mark article on building a theremin. But who was the Brylcreem model pictured throughout it playing the theremin?

The seller writes: "" Increasingly hard to find, this nearly half-century-old issue of Electronics World contains a fascinating how-to on building that special effects staple of scores of classic sci-fi flicks, the theremin, by none other than electronic music pioneer Robert Moog. The feature article contains a complete schematic and parts list, as well as chassis layout and photos of the completed unit. There are even tips on how to play the ethereal instrument. You get the entire original 1961 magazine, not a couple photocopied pages like you find elsewhere on Ebay. ""
Link to ebay listing.