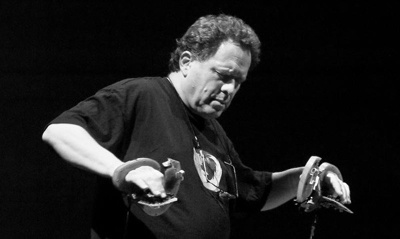 photo STEIM

Michel Waisvisz (1949 - 2008) was a remarkable musical visionary, inventor, and thereminist. After visiting and playing with Lev Termen in 1993 at the STEIM Center, shortly before Lev's death, he allowed ThereminWorld to host the photos of their meeting.



Michel shared one of his music performance devices with Lev during that visit. He developed the Crackle-Box and used it and the Hands as well as other inventions in performance at the STEIM Center for research & development of musical instruments & tools in Amsterdam, The Netherlands.
Michel published a history of the Crackle-Box in 2004 along with other information at www.crackle.org.
STEIM has posted a memoriam for Michel. There is also a video of him on line playing the Hands.

An electronic tinkerer at an early age, Michel's father built him a theremin, and like Bob Moog and other greats of our age, the theremin helped set him on the path of ground breaking musical invention.

He was a founder, director and artistic leader of STEIM for 27 years. STEIM remains one of the most important centers for electronic music.

Michel passed away on June 19, 2008 in his home.
He was one of a kind and will be greatly missed.

Many thanks to J.M. and the STEIM center for additional information.