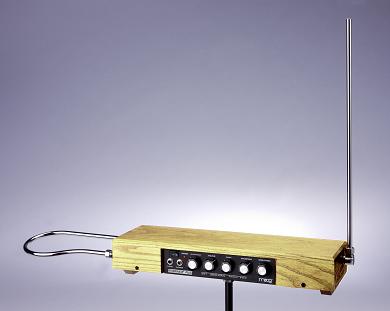 At this year's NAMM show, Moog Music is announcing a new model in the hugely popular Etherwave Theremin line - the Moog Etherwave Plus!
The new Etherwave Plus builds on the success of the Etherwave Standard by adding built-in CV (Control Voltage) outputs. The CV signals are proportional to the pitch and volume of the theremin's audio signal and can be connected to the pitch and volume CV inputs of a Little Phatty, Voyager, or other analog synthesizer. Control anything from the cutoff frequency of a Moog Ladder Filter or the LFO Amount on a Moogerfooger Ring Modulator to the stereo panning on a Minimoog Voyager.
Specifically, the "Plus" features include:
Pitch & Volume CV Outputs - control a different CV parameter with each hand
Gate Output – trigger envelopes and other events
Pitch Preview/Headphone Output - with separate volume control, lets you hear your note before the audience does.
Power LED - instant visual power status on dark stages
The Etherwave Plus will sell for a suggested price of $519.
Current owners of the Etherwave Standard can have their theremins upgraded to match the specs of the Etherwave Plus with a kit for $149 or as a factory-installed upgrade for $179. We previously announced the factory-install option, but the field-installable kit was a pleasant surprise!
For more information, visit http://www.moogmusic.com/theremin.