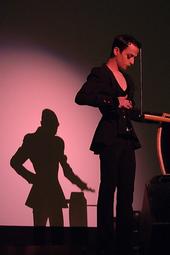 Theremin phenomenon Armen Ra will be presenting an excerpt from METAL, a tribute to Maria Callas, at the REDCAT Fall Studio 09 Program in the Roy and Edna Disney/CalArts Theater, part of the Walt Disney Concert Hall in Los Angeles. The dates are Sunday November First and Monday November Second at 8:30PM.

Tickets are available via the REDCAT website.

His performance of METAL early this year in New York was a knock out, highlights from it are on line here. Catch this if you can!