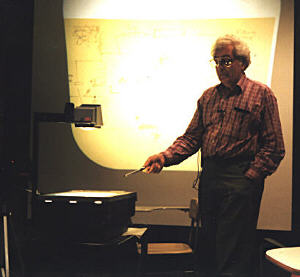 Today marks 5 years since Dr. Robert Moog left this Earth. While his passing was truly a sad moment for all of us in the theremin and synthesizer communities, we wanted to spend the day today remembering the wonderful person Bob was and all the great accomplishments he left us with. As you are practicing, building, listening, or performing theremin music today, we invite you to take a moment to reflect on Bob's impact on your own life and share a fond memory with others.
Of course, the best way to help preserve Bob's legacy is to make a donation to the Bob Moog Foundation. Be sure to follow them on Twitter at @moogfoundation.
May the force of Moog be with us all... forever.

photo Bob Moog Foundation. Print reproduction is prohibited.

More Moog Mappings Posted By: omhoge @ 11:21

Bob Moog's work not only kept the theremin alive and available in the modern age, but changed the entire music world. It all boiled down to connecting and and and communicating with people. Bob listened to musicians as he created his instruments making them more intuitive and allowing the core concepts of synthesis like ASDR (Attack, Sustain, Decay, Release) to be more accessible.

That unrelenting vision seems to boil down to a love of people, belief in our innate creativity, and a commitment to making the world better through your work, music and supporting the causes you believe in.

I can map some of the most important turning points in my life directly to Bob's work.

- Switched On Bach recorded by Wendy Carlos with support from Bob Moog and Rachel Elkind, and the many magazine articles about the Moog Synthesizer at that time changed everything. On Wedny's site she quotes Bob "Switched-on Bach was released at the end of 1968 and became an immediate success. It was acclaimed as real music by musicians and the listening public alike. As a result, the Moog Synthesizer was suddenly accepted with open arms by the music business community. We witnessed the birth of a new genre of music--classical music, realized with impeccable musicianship on synthesizer and tape recorder. ..." Her eulogy for Bob is on her site

- The release of the MiniMoog in 1970 enabled many of us in school at the time access to an instrument and have hands on experience in tonal synthesis.

- The EtherWave Standard and Pro theremins from Moog Music made it possible for most of us to start the life changing process of playing the theremin and with the EWPro take it to new levels.

And of course let me ask again, if you can please help with a donation to the Moog Foundation.

What how did B