Here's a rare opportunity to own a high quality replica instrument that's nearly as hard to find as the original! John Terry is once again offering for sale his replica theremin cello and diamond speaker (built by master craftsman Floyd Engels).
I had the chance to meet Mr. Engels and try one of these beauties at the 2005 Theremin Festival in Ashville, NC. Believe me, they are as amazing as they look, and they sound even better. You can see one of the same replicas in action here on YouTube.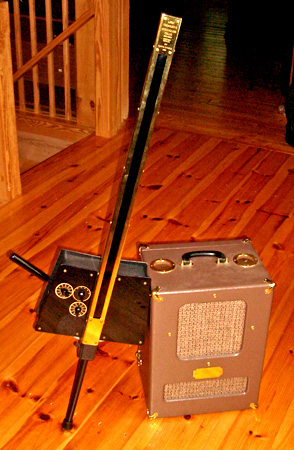 The theremin cello was originally designed by Leon Theremin at the request of Leopold Stowkowski. They first appeared on stage in 1932. The diamond-shaped speaker is modeled after the one used by Clara Rockmore. The stand holds it at the height of the player's head to make it easier to hear one's playing.
To the left, you can see Mr. Engels posing with one of his replicas. Only about 12 of these theremin cellos were built by Mr. Engels after he carefully studied every angle and component on the original. They are hand crafted to be nearly identical to the original in every way.
More photos of the instrument and accessories can be seen at John's website. He has a huge collection of other vintage gear, some of which is also for sale. Interested parties may contact John directly through his website or via email.
If you end up with either of these beauties, send us photos and video please!