If you received or purchased a theremin over the holidays, then congratulations! The first few sessions with a theremin can be a little intimidating, so we've compiled this short list of resources to help you start learning to perform music on your new instrument.
Happy practicing!
1. Clara Rockmore's Theremin Method Book
Clara Rockmore, the first theremin virtuosa, produced a theremin method book detailing her theremin technique in the 1990's. The 16 page book is freely available in PDF format. Thereminist Roger Ballenger has also shared a series of MP3 audio files of the lessons at BallengerMusic.com.
2. Mastering the Theremin by Lydia Kavina
This introductory video comes with the Moog Etherwave theremins, but in case you have a different model or bought yours second-hand, it's also available as a DVD at Amazon.com
.
3. Theremin Lessons DVD by Thomas Grillo
YouTube sensation Thomas Grillo has compiled this set of video lessons for learning to play the theremin. Available from Amazon.com as DVD
or online instant video
. Grillo also teaches lessons live online via Skype. Visit ThomasGrillo.com to learn more.
4. The Art of Playing the Theremin by Carolina Eyck
A collection of 150 exercises and etudes by thereminist Carolina Eyck. Available in both print and PDF format in English and German from CarolinaEyck.com.
5. Online Theremin Lessons by Kip Rosser
Thereminist Kip Rosser has published a series of 64 theremin lessons online on his website. He covers everything from tuning the theremin to basic and advanced techniques.
6. Manuel D'Initiation Au Theremin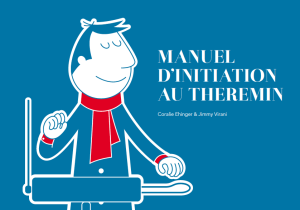 A great introduction to the theremin, packed with tips to get you started. Originally published in French. Available in spiral bound format in French at Amazon.fr and in English
at Amazon.com.