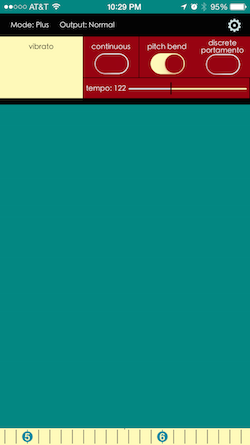 App developer Zero Crossing released their new virtual theremin app iThereal for iPhone and iPad today.
Unlike similar apps, iThereal can serve as a MIDI instrument over Inter-App Audio, allowing you to control instruments in Garageband, for example.
Setting up iThereal to play is simple. Just pinch/zoom along the bottom bar to set the pitch range, then slide left/right to set the starting note. Then, to play, just tap the screen and slide your finger left/right for pitch and up/down for volume. Alternatively, you can set iThereal to be controlled by the gyroscope, allowing control of pitch and volume simply by tilting the device.
At $2.99, iThereal is a fun toy for the theremin-curious, but it probably won't cure your craving for a real theremin. A few tweaks on our wish list would improve playability. For starters, manipulating the pitch range at the bottom of the screen is a bit difficult for large fingers on the iPhone screen. Finally, the MIDI signal sent by iThereal is only 7-bit, so your pitch slides will be a little "chirpy" if you have a wide pitch range set. It would be great if it sent 14-bit MIDI control changes.
Let's hope Zero Crossing has more updates in the near future. In the meantime, give it a try, and feel free to post links to your iThereal creations in SoundCloud in the comments below.
iThereal is available for iPhone and iPad in the iTunes App Store: iThereal - Zero Crossing (iTunes)