Hands Off - some photos
Posted: 8/2/2007 12:30:09 PM
Posted: 8/2/2007 2:04:23 PM
Thank you for the pictures! (It's so nice that I didn't have to drag a camera around :-))
I like them all, but for me Jon's pictures show Hands Off's atmosphere and people the best, on and off stage. (Off stage was the most important part of the symposium, meeting all those marvelous people.)

--
greetings,
Jessica
Posted: 8/4/2007 4:33:28 PM
Posted: 8/6/2007 7:06:29 PM
Posted: 8/7/2007 7:53:53 PM
Posted: 9/7/2007 12:13:56 PM
Posted: 9/12/2007 6:09:49 AM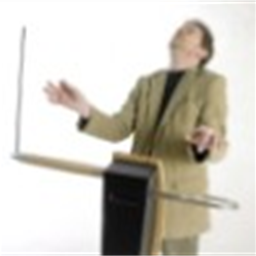 my spies tell me the group photo taken at Hands Off is in The Word magazine in the UK this month ("October's edition" I think.) I haven't found a copy yet myself.
Posted: 9/12/2007 6:17:46 AM
Damo. Yes I did. Sorry I didn't spot your posting sooner.

unclechristo. Your spies are quite correct. It is due out tomorrow (Thursday 13th)

I have seen the photo in question, and it is excellent - [i]the[/i] photo of the event. The highlight for me is Barbara Buchholz pretending to play my etherwave, but there's plenty of things to spot - Wilco Botermans trying to choose a pitch rod, young Lev playing Bruce Woolley's matryomin, Richard Helyer looking somewhat startled. I could go on...

I'm looking forward to reading what they have to say about the concert.
Posted: 9/14/2007 10:45:31 AM
Wilco wasn't choosing a pitch rod - he'd disassembled Barbara's T-vox, with some excuse that it used to be his and therefore he was entitled!

He has the volume antenna from the T-vox in his right hand, along with the pitch antenna from the EWPro. Pitch antenna from the T-vox in his left hand. He couldn't even keep parts from the right instruments together!

That's why the front-row had to distract Barbara with Gordon's EWStandard. I suspect it was Carolina's EWPro he dissected too as she was similarly instrumentally-substituted - just put an EWStandard in front of either of them and they'll still make beautiful music whilst Wilco finds the super-glue!

Ah... memories!


Stuart.
Posted: 9/16/2007 3:54:47 PM
And some more, this time from Alexander Mairhofer.

[b]These are excellent photographs.[/b]

They are worth looking at, even if you have had your fill of Hands Off by now!

-----> slideshow (http://picasaweb.google.com/photo1984/HANDSOFF2007/photo?authkey=1MLIa9XjBo8#s5098514192123045762) <-----