Mars Need Women
Spent an hour with PRAAT trying to get the formants of the singer / songwriter Poe, which as usual didn't work at all.  I love her voice.
Gave up and decided to edit one of my female presets to try to improve on things.  Female vocal is a real go-to, bread-and-butter type preset for the Theremin, you can't have enough of them.  Here's today's preset "fem_3":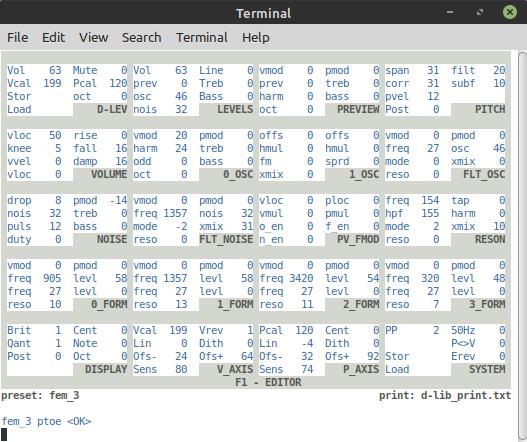 And here is a short recording of it: [MP3].  (Much thanks to DanielMacKay for posting his repertoire!)
The formant levels and resonances seem to be almost as important as the formant frequencies.  The nasal formant (highest, here 3.42kHz) has a huge effect on the overall perception of the age, weight, etc. of the vocalist, I need to maybe put two up there and play around with them.
I've been working a little on the strings too: [MP3].  That's violin, viola, cello, then an octave up.  With some reverb.
[EDIT] Ha!  Moved the top formant up a bit to 3.62kHz, added a new one below it at 2.96kHz, a subtle but real increase in realism of the vocal sound.  Have a listen to my noodling: [MP3].  The room ambience is 100% from the resonator.   So the trick seems to be more formants...
[EDIT2] I'm in the mood to play this new voice! [MP3].  It can go really high and somewhat low, and the dynamics are fairly wide.  I wonder if we're just naturally attracted to complex resonances?  The ersatz room acoustics provided by the resonator in this patch make it a lot more interesting to me.