Progress!
The terminal calc is mostly done, here are some screenshots: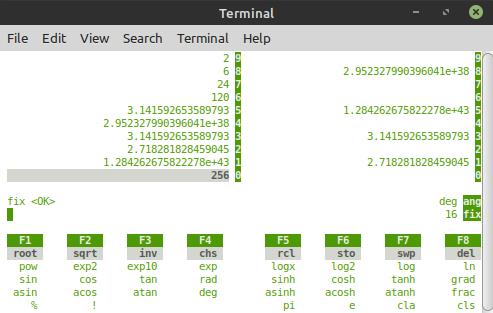 The above shows decimal mode.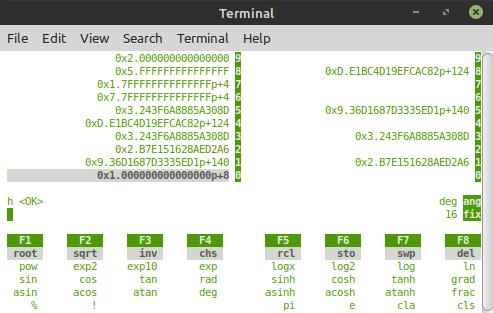 The above shows hex float mode.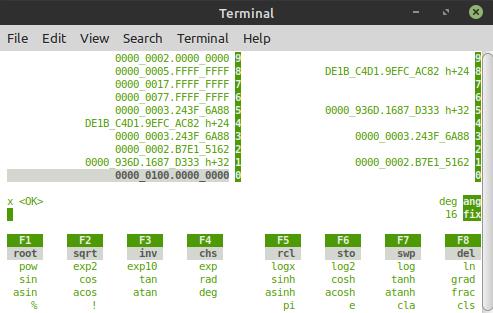 The above shows 32.32 hex float mode.

The above shows the stack / memory highlight and the function key highlight in different locations.
Most of my goals have been met!  Numeric base is a display mode rather than a functional mode, so you can switch all you like without affecting anything.  The stack depth is unlimited, but only the first 10 entries are displayed.  Memory has 10 just slots, all displayed.  There is a highlight you can move around the stacks via SHIFT and the arrow keys to select things for copying / deleting / storing / recalling.  There is a similar highlight for the function keys you move up and down with CTRL and the up / down arrow keys to select the function bank.  You can just type the functions in too, which is usually faster for me.  White space alone dups the last stack entry (or the thing with the highlight).  DEL alone deletes the last stack entry (or the thing with the highlight).  Previous operation and status is shown above the command line.  Four angle modes: radians, degrees, grads, fractional (0 to 1 for full circle, like binary SIN2, etc.).
TODO:
- Kill trailing zeros in the hex float mode.
- Make the help file.
- File I/O?
[EDIT] Made the help file, typing "help" on the command line brings it up.  Moved all the hyperbolics to their own function bank.  Added "help" and "fix" to the last function bank.  There are amazingly few basic math functions even in a fairly advanced scientific calculator.  An undo of some sort would be helpful, not sure I want to go that far (HP often gives you a "last x" which is partially useful).