Well this is certainly interesting. Behringer teased a new theremin prototype today, "The Beremin". 
In their Facebook post, they don't say a whole lot other than that they're targeting a $99 USD price point. I don't know when it will ship, but if their pattern for recent instrument releases holds, it's probably coming quite soon.
From the press photos they shared, we can see a telescoping pitch antenna that folds down onto the top of the cabinet (which is very likely plastic). No telling if there's a similar mounting point for the volume antenna. Zooming in on the front panel, we can find a few clues: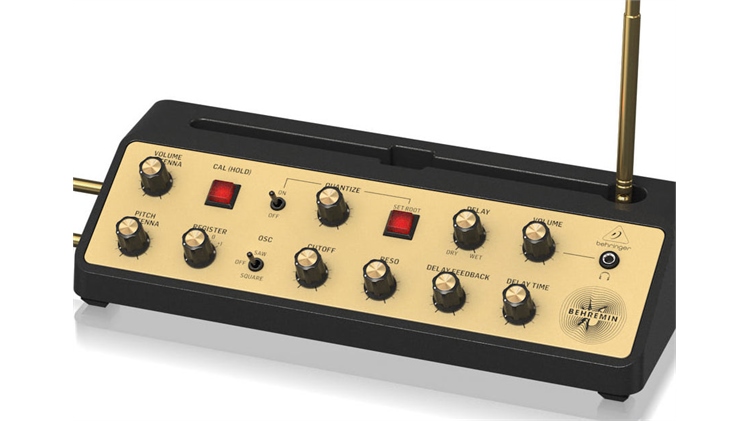 From the left, we see adjustment knobs for the volume and pitch antennas, a calibration button, and below it a register knob with settings for saw, off, and square. I imagine setting it to "off" still allows use of the antennas as a MIDI or CV controller. Moving along, we see a quantizer section with a switch to enable/disable it, a knob that likely adjust the amount of quantization (similar to the Theremini and Claravox Centennial theremin), and another button labeled "set root" to set the root note for the current scale type. It's not clear how the current scale type is changed, however. On the right we knobs for adjusting filter cutoff and resonance. To the right of that appears to be a delay section with delay mid, feedback, and time controls. Finally on the top right we have a volume knob and headphone output.
Turning to the back panel, we see CV outs for the pitch and volume antennas, an audio out, and MIDI DIN and USB ports. There are also 4 DIP switches for selecting the MIDI channel. There's an on/off switch and DC input jack as well.
Of course I have no word yet on details such as the range or responsiveness of the antennas or whether it can mount onto a microphone stand. Most importantly, I haven't heard any sound samples from the instrument (though we can imagine what a simple saw or square wave played through a low pass filter sounds like). I have not been contacted by Behringer with any additional information. If they reach out, I'll share what I can.
I can't ignore the fact that the color of the panel is oddly similar to the Claravox Centennial theremin, which I imagine is no accident. The idea of releasing an ultra-low cost instrument "inspired" by another manufacturer's design is definitely in keeping with Behringer's other offerings. Beyond the price point, it's not clear if the Behremin offers much that other theremins don't, and maybe that's enough for many. This certainly makes dual antenna theremins much more affordable for the theremin-curious. Time will tell what kind of impact it has on the market.