Hi-Lo 2: Circling the Square
Raising a [0:1) ramp to a power gives a nice concave curve over the same interval.  A rising and falling [0:1:0] ramp (triangle) over the same interval gives a double scoop with a point in the middle.  If you flip the second half upwards you get a nice continuous [0:2) "sinus" function that we can divide by 2 (right shift once) to get it over the [0:1) interval.  If we subtract the initial ramp from this, where the initial power is 2, we get something that looks remarkably like a sine wave (a second order polynomial approximation of it, arrived at accidentally).  If the initial power is greater than 2 we get the familiar looking glottal wave of Hi-Lo, but without using the sine subroutine!  And we can play the same powers scoop out game afterward to reduce the low frequency content: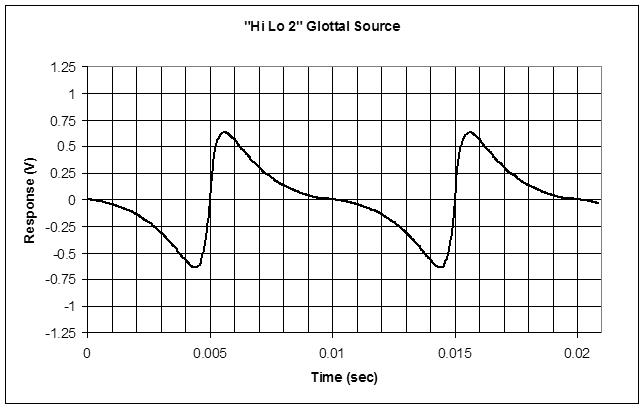 I haven't tried this on the prototype yet, and it has more amplitude variation with the various settings, but it is an interesting and computationally inexpensive way to get adjustable controlled harmonic content without trig functions.
[EDIT] I can't figure out a straightforward way to get odd harmonics from it, so I'm sticking with the original Hi-Lo sine mutate.
[EDIT2] My headphone amplifier, a PreSonus HP4, literally burned up yesterday while we were out of the house (!). Whole downstairs smelled strongly like burned phenolic. Opened it up and one of the quad op-amps was charred, the PC board under it browned, and a nearby filter cap was bulging (presumably due to the heat).  Unsoldered the bad stuff and it still smoked when I plugged it in. Turns out a trace was somehow shorted to ground, so I clipped that and I'm back in business, but with one less output channel.  I'd like a reason to replace the HP2 actually, it has way too much gain IMO.