Violin 2
Heartened by the relatively quick and painless improvement of the cello preset, I decided to take another stab at the violin preset.  As with the cello, I spectrally examined the lowest octave, dialed in the resonances, and the played with the Q's, levels, and finally the resonator settings.  Here's the result: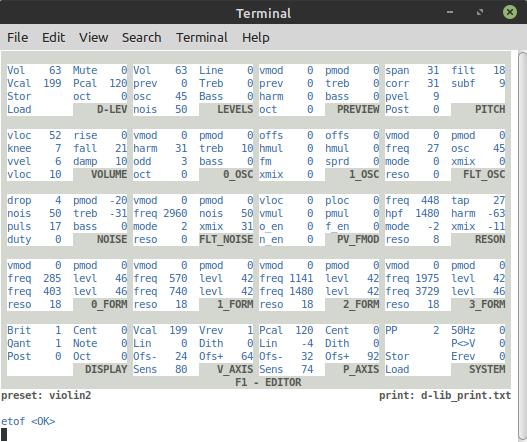 The formants are set to 285, 403, 570, 740, 1141, 1480, 1975, and 3729 Hz.  Astute readers might notice the jacking up of pitch correction strength (filt=18, pvel=9) as this is a difficult voice to control (and I'm not practicing enough lately).  See what you think: [MP3].  I think it's a significant improvement over my previous violin.  There's nothing like analyzing a real instrument, and not relying on resonance data you find in papers and books and such.
And this morning I added a "Line" knob to the "LEVELS" UI page to provide some control over the secondary audio outputs.  Had to kick the "Mute" knob off of that page to make room, but it's still on the main page.  You can see this too in the librarian pic above.
I'm starting to get a little smarter about saving the preset I'm editing at intermediate points to consecutive slots, which gives me a fall-back position, as well as something to compare the progression against.  Ears adapt and get tired and stuff, all of which works against you in this sort of endeavor - you constantly need a clean pair of ears.