Why?
I don't know why I became fascinated with the Moog Melodia enough to want to build a replica.  The physical appearance is very basic, and it has no timbre control, so you're stuck with a single voice.  Part of the motivation for the project is that I enjoy doing restorations and have a great appreciation for the craftsmanship of antique and vintage items.  I also enjoy building from scratch, especially if the project has a nice mix of woodwork, metalwork, and electronics. With the Moog Melodia, I have all three.  I have no expectation that this is going to be a great theremin, but it will be fun to try something different.
I think the fact that the Melodia is well-documented helped to keep the scope of the project down to something that I was willing to do alongside other projects that are also competing for time. Both the original kit manual and the 1961 Electronics World articles are available (though they are slightly different designs), and there are quite a few photos on the net of various cabinet styles and several good internal construction views.  Attempting to accurately replicate something from photographs by scaling in Photoshop is sometimes tedious, and I find that I'm always second-guessing my decisions and interpretations along the way.  With the help of some additional detailed information from forum member Senior Falcon, the resident Melodia expert, I was able to skip the usual guesswork stage of the project and get on with the fabrication. 
My plan is to build a replica of the model available from Moog in kit or factory-built versions.  These were PNP transistor-based, whereas the 1961 magazine article described an NPN version that was essentially the same except for the transistors and the different biasing that they required.
But before committing to this project I needed to know whether I could buy or replicate some key vintage components, and once I found the original 2N414 PNP germanium transistors and similarly shaped knobs for the front panel, I figured the rest could be faked.  While waiting for parts for another project I have been able to put in a few days effort getting started on some of the most worrisome portions of the Melodia, and with those behind me I'll be off on something else for a while.  Progress photos will be posted here, and once it is completed I will probably write a more detailed complete website article - I don't like protracted serial dramas on the website. 
Construction:
The first order of business was to assemble all of the drawings, forum posts, and compilations of key photos that I could find on the internet into a reference manual for use in my workshop.  I still prefer paper copies instead of tablets or laptops when I'm working around machines.
 
The most important components that needed to be found or made were the tunable inductor coil forms.  I believe that I had read a post by forum member Fat Bob that described similar coil forms that were still available from Surplus Sales of Nebraska.  They did have the coil forms (actually coils, they already had windings on them that needed to be removed), although they were a slightly different style from those in the production Melodia, and I chose not to buy them.  Surplus Sales has an amazing inventory of unique and vintage items that are not available anywhere else, often at amazing (not in a good way) prices.
I made the coil forms shown below using 1/2" phenolic tube purchased from McMaster.com.  I also made a tool shown in the second photo to help fabricate the triangular solder lugs from .025" brass, and the threaded caps were machined from aluminum.  The ferrites that I chose to put on the threaded rods were something I already had, and this will be an unknown.  When I wind the coils, I will be prepared to deviate from the instructions as necessary to work with what I have.  I was originally planning to put together a simple mechanical honeycomb-coil winding machine for these inductors, although the progressive-universal wind used on the large antenna ferrites can't be applied this way, and I may have try to adapt a CNC-control machine to wind both types.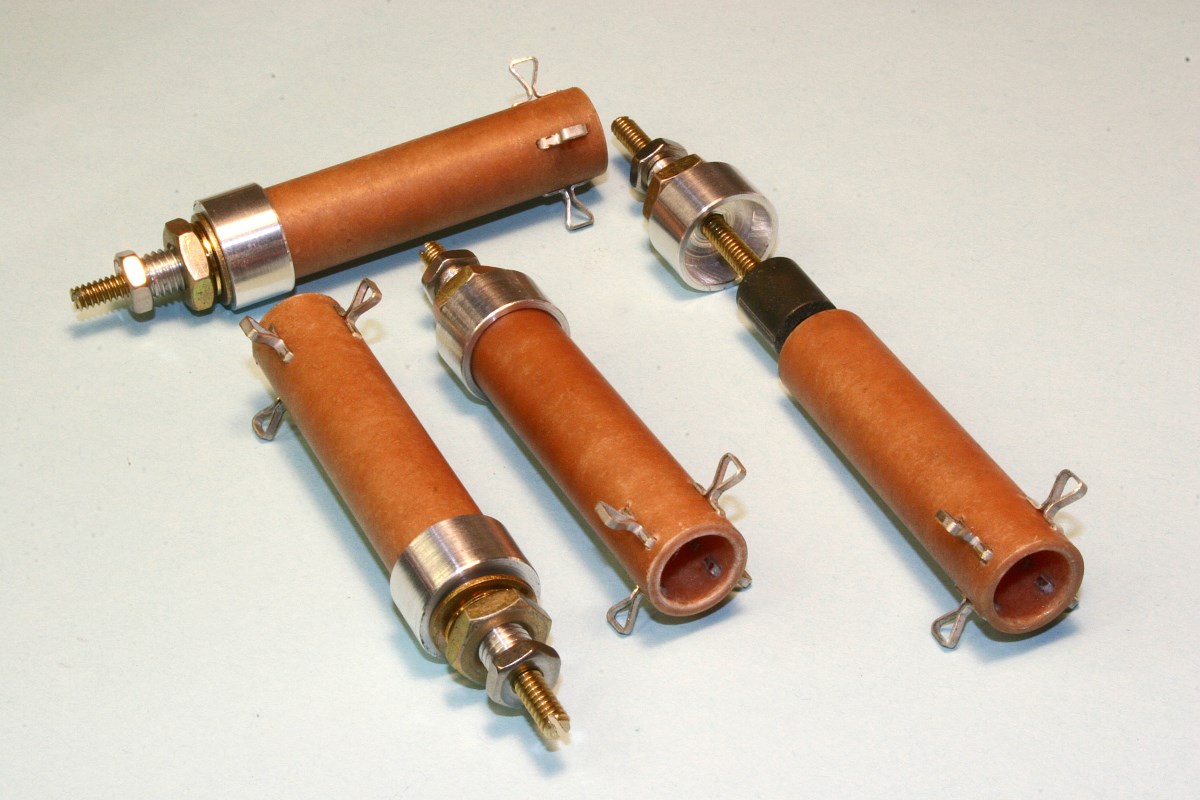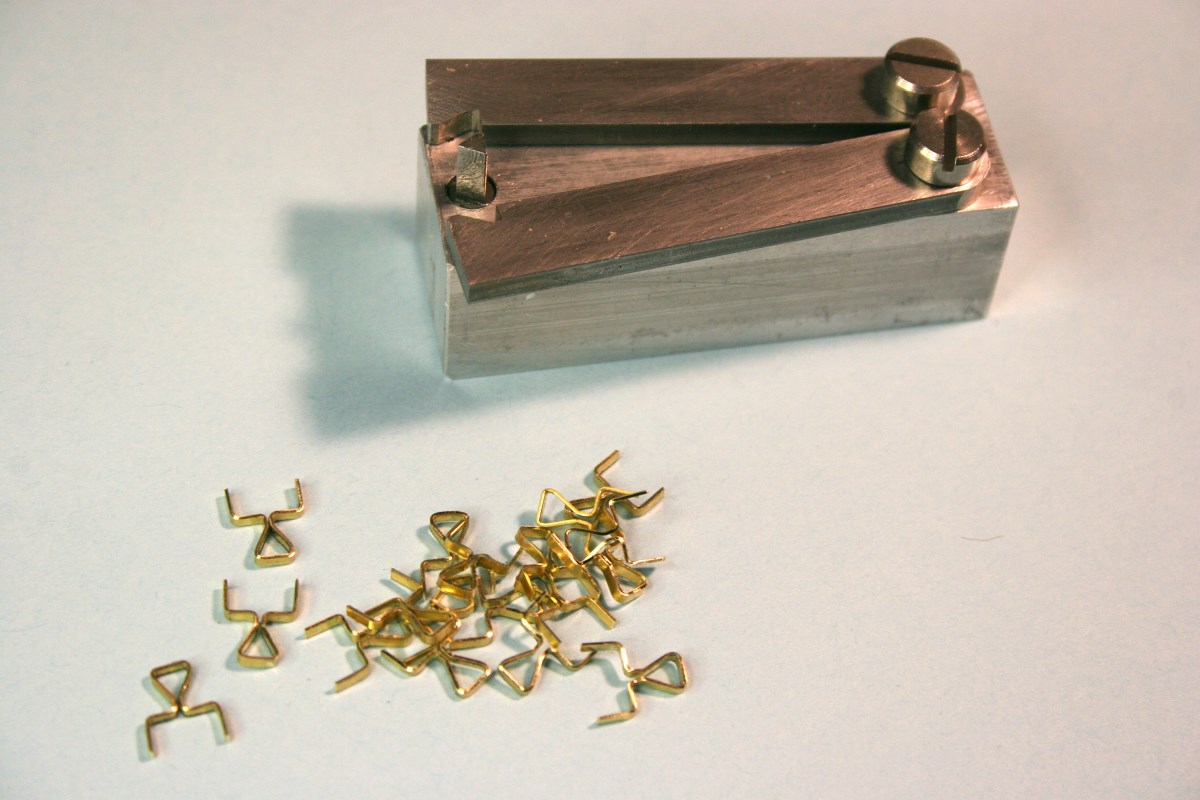 With the coil forms made I started collecting other vintage electronic components  that were on the factory kit's parts list.  The unusual 3-position Mallory rotary power switch shorts the audio in the center position to eliminate the thump when powering on or off.  This switch was and still is available from Surplus Sales.  Other parts were found on eBay, usually at pretty hefty prices.  Sharp eyes will note that the variable capacitors are not exactly correct - I can't find the Johnson 5M11 caps that I bought a while back for this project, but I have these that will be essentially the same after I remove some of the breakaway plates.
Even little things like disk capacitors are no longer available in the larger values specified.  I had plenty of chip capacitors of the correct values lying around, but how would that look when trying to replicate the appearance both inside and out?  The solution was to solder leads on the chip caps and pot them in urethane resin.  And since they were going to be potted, why not make a mold from a real ceramic capacitor and tint the resin to match the old green ceramic?  All that remains is to transfer some text for the capacitor values...
I said earlier that I had found the correct knobs for the pitch and volume controls, and the chicken head knob for the power switch is widely available.  I bought the large knobs as a vintage lot, only to find out that Davies Plastics still sells exactly the same knob for less than I paid on eBay.  But all of these knobs are black, and the originals are brown.  Davies will still make knobs of any color but the minimum is something like 1000 or 2500.
I decided to make molds of the originals and recast them in colored urethane resin.  I had all the materials on hand, and these would be simple to do.  Or so I thought...
Every time, and I mean every time over the years when I have to cast something new I always start out trying to take shortcuts in the process.  In this case I tried to make the silicone molds or urethane casts at atmospheric pressure, and this resulted in failures of both and a lot of wasted materials.  I got frustrated and started all over- the silicone was vacuum degassed, poured around the part, degassed again, then cured under pressure at 60psi.  With a good mold in hand, the tinted urethane resin was mixed, degassed, poured in the mold, degassed again, and then cured under 60psi pressure.  Curing time for the urethane part alone is about 4 hours, so this is a multi-day process.  But after doing this, the yield was 100%. 
The photo below shows good molds in the background, an assortment of failures and color tests on the left, and two perfect casts on the right.  Fixturing the knobs to machine for brass inserts was another challenge, but I won't go into that.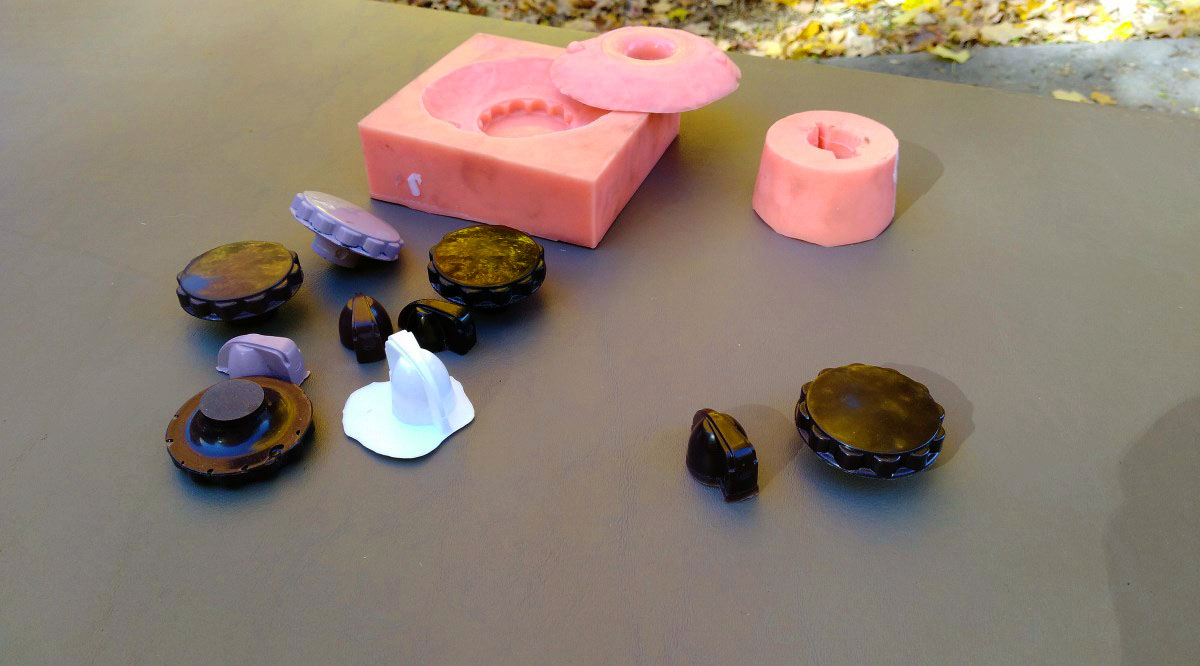 I formed the metal chassis and front panel from 5052 aluminum in accordance with the sketches provided by Senior Falcon and by scaling some dimensions from photos. I made a couple of mistakes, and the pin jack holes are left undersized because I don't know what I'll use there.
The metal was so ductile that I thought I would try to make a simple die to form the 1/8" dimples that the later chassis design had to provide space underneath for protruding hardware.  After a few failed attempts on samples, I ended up with a die that worked, and I'm very happy with the results.  The second photo shows the formed feet.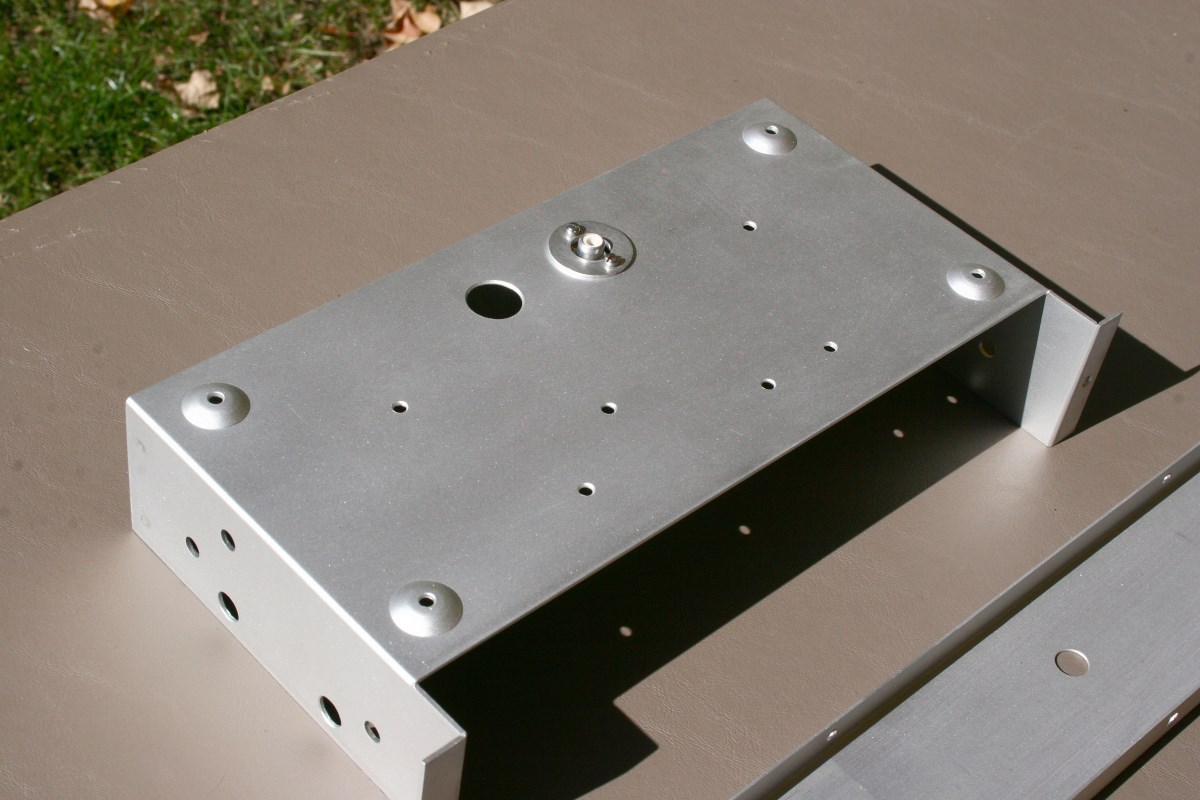 Finally, to wrap up this post for now, I have a picture of two different woods that could be used for the cabinet.  Some cabinets were originally walnut, but others do appear to be something lighter - mahogany or possibly even cherry, either of which I would prefer over the darker walnut.  The wood on the lower right is Sipo, a mahogany substitute that has some nice striping.  The wood on the upper left is Brazilian Cherry - very dense and also striped.  It's almost indistinguishable from the Sipo when placed side by side, at least for now.
If anyone has a Melodia made from something other than walnut, or knows about other woods that were used, I would welcome your comments.
More in later weeks...