How can I change the sound quality of my moog theremin?
Posted: 1/25/2007 9:06:36 AM
Posted: 1/25/2007 2:23:45 PM
Posted: 1/26/2007 11:18:51 PM

Two more possibilities (not necessarily cheap):

1) Has anyone tried modifying the signal with a graphic equalizer? That ought to allow some more complex sounds (depending on how many bands the device offers).

2) One thing I have tried is running the signal through a Moog MuRF (Multiple Resonant Filter Array). This improves even the sound of the ePro, because while the ePro offers a single resonant filter, the MuRF adds eight more.

One interesting side benefit of adding resonant frequencies is that it can help improve your absolute pitch stability... because instead of an undifferentiated spectrum, your ear attunes to the selected sweet spots, drifting less than usual. (Of course, your hand and arm still have to hold up their end of the pitch bargain...)
Posted: 1/26/2007 11:23:43 PM

P.S. About the not-cheap aspect: The Moog unit is priced around $400. You can buy a 7-band graphic EQ for about a tenth of that!

And if you're willing to spend $100, you can get 12 or 15 bands.

(Again, I have NOT tried this myself, so I can't compare the performance.)
Posted: 1/27/2007 12:48:47 AM
Posted: 1/27/2007 1:30:45 AM
On July 10, 2005 Peter wrote:
"My favorite tweak device, which I have raved about umpteen times here on the Levnet, is the TLAudio 5051 Mono Valve (vacuum tube) Processor which I use between the theremin and the recording device. It has six valve stages supplied by three twin triode tubes - one in the preamp stage, one in the compressor gain control circuit, and four in the EQ section. With this unit, I can add a little 'edge' where it is lacking (as with the Etherwave which can sound rather dull) and remove it where there is too much (as there is with the RCA which can sound too 'buzzy' for my taste)."
Posted: 1/27/2007 7:20:24 AM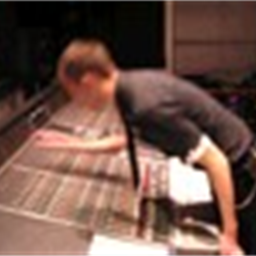 The problem with the graphic equalizer suggestion is that, since graphic equalizers serve as tools for dealing with unwanted room resonances, they come with balanced inputs and speaker outputs. In order to plug your theremin into a graphic equalizer without ending up with lots of noise, it would have to be part of a bigger processing chain, that would include a DI box and dedicated speakers. Apart from that, I'm not really sure that the very narrow-bandwidth, steep notch filters used on most graphic equalizers would deliver the "musical" result you're after. They are constructed so that they can cut down room boominess with the biggest precision possible and without introducing unwanted resonances (which make normal filters "musical") around their roll-off frequency.
Posted: 1/27/2007 7:56:14 PM
Posted: 1/28/2007 1:50:38 AM
Posted: 1/28/2007 5:57:10 AM
Beautiful. Of course, it's on Youtube, which means their careers are forever scarred and they must walk the earth hanging their heads in shame.

I'll get to meet Spacedog on my tour soon, I believe she'll be along to the Brighton date!