Pitch Preview & the Ideal Theremin
15 years ago the active theremin community was over 500 strong. Today it is about 20. I keep wondering where are all of the University Students (arduino), is Analog dead?
This small $2 LM386 board off ebay gives you Pitch Preview with volume control and a LED ON indicator. The good thing is the ear bud jack is stereo or TRS which makes it practical. To bad they did not supply the potentiometer mounting nut.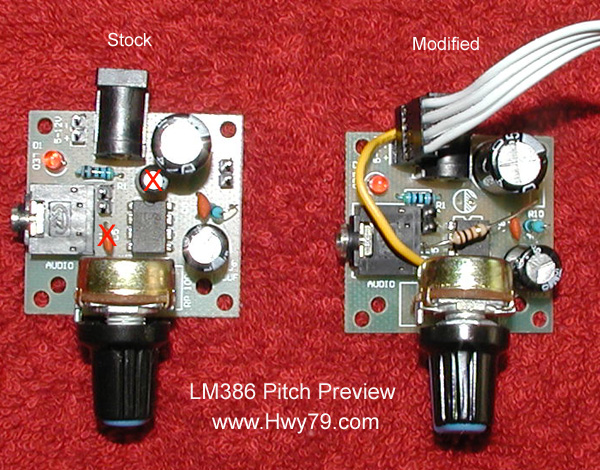 I use a 4-pin ribbon cable which plugs into my Harmonic Exciter board for a clean interface. This cable supplies power, the audio from the theremin and the extra pin when grounded will mute the theremin.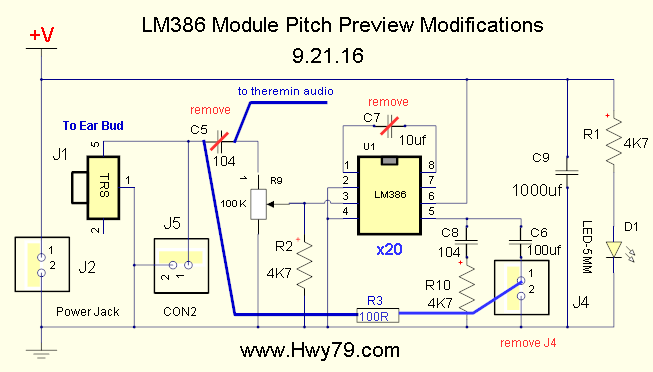 My research demonstrates an EWS Harmonically Rich Sound
Most theremins have soft control of the sound on and off, someday there will be full control. I use a pre-recorded sound so my playing does not distract you, Demonstrating a 40cm Dynamic Volume Control Window
Keep an eye on Craigslist, there are many EWS in people's closets and there are very few buyers. I bought this complete mint condition setup below for $250 last month as I expect to give my original modified EWS away.
Christopher