Boss RC-30 Loop Station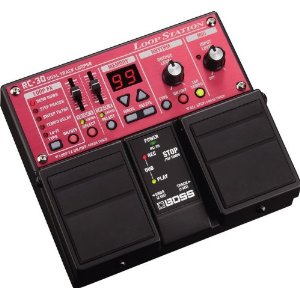 Available From: Guitar Center
, Amazon.com
The BOSS RC-30 Loop Station is a beast of a looper. It gives you two independently controllable stereo loop tracks, so you can create really complicated looped performances with your theremin.
Record, click, layer, click, re-record, click... perform!
The RC-30 also includes onboard effects, an 1/8" aux input so you can pipe in an accompaniment track from your iPod or other MP3 player, and an XLR input with phantom power for looped vocal parts.
If 2 tracks aren't enough, check out the next step up: Boss RC-300 Loop Station
(3 tracks, 98 phrase memory)
If you're curious about what can be done with a looping pedal and a theremin, check out this thereminist using an RC-30 and an Electro-Harmonix Talking Machine to perform real-time barbershop quartet with her theremin!