Electro-Harmonix Talking Machine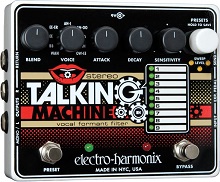 Available From: Guitar Center
, Amazon.com
The EH Talking Machine is a vocal synthesizer. It can detects the pitch of your theremin (or other instrument) and substitute in a very human-like timbre as a replacement. The result is a stunning transformation from the traditional theremin sound to something like an opera singer!
Several different formant settings are available, as well as Attack, Decay, and Sensitivity.
If you're curious how the Talking Machine sounds with a theremin, check out these amazing videos posted by some members of the theremin community!