Tweet
Add to calendar: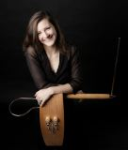 when
Thursday, July 18, 2013
10:00 am - 10:00 pm (GMT 01:00:00)
where
Colmar, France
Rue des Serruriers
Colmar, Alsace
68000
description
Program: - Individual theremin lessons - Theremin group lessons - Theremin chamber music ensemble classes Teaching: - Carolina Eyck - Thierry Frenkel - Wilco Botermans - Thorwald Jorgensen This year's special guest will be Wilco Botermans (NL) teaching group and individual lessons about the use of Moogerfoogers and other effects, especially the use of MaxMSP with the theremin in experimental music - a very new and exclusive cherry on the academy's cake! Our second special guest, Thorwald Jørgensen (NL), has done much research around the world to gather as much information about Clara Rockmore's playing technique as possible. This allowed him not only to develop his very own playing technique but he decided to share this unique knowlegde during a 2 hour workshop with many demonstrations and give individual lessons on demand.
more info
event website