Moog Music Etherwave Standard Theremin Kit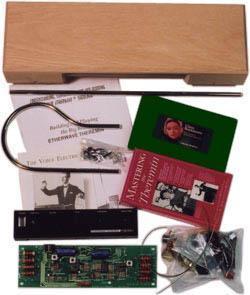 Price Range: DISCONTINUED
Available from these stores:
For Orders Outside the United States - Guitar Center ships internationally.
Description:
The Etherwave Theremin, designed by Bob Moog, is the most popular theremin kit ever produced! Build your own Etherwave from this easy-to-assemble kit. No previous electronics knowledge required, but you will have to do some soldering. The main board is assembled and tuned at the factory. Features nickle-plated antennas, birch plywood cabinet, and external power supply. Also includes the "Mastering the Theremin" video featuring Lydia Kavina, and Clara Rockmore's "The Art of the Theremin" on CD.
Recommended Accessories:
See it in action