"The whole thing went back together EXTREMELY EASILY. This is by far the easiest theremin I have ever had the pleasure to disassemble and assemble. There seems to be plenty of places to mod and hack the theremin, should it ever become necessary."  - Flounderguts
Probably a good thing, with all the work that needs to be done to many of them after they leave the factory!
"And it seems like reprogramming it could also be a doddle, from a hardware perspective."
Too bad it isn't open source...
"I am impressed with the wood pieces and joinery, even if I am less impressed with the brasswork.
That square hole with a slot for the PWB looks like a nightmare to machine, like it was spec'd by someone with zero manufacturing experience / woodworking skills.  I wonder how many rejects they get due to splitting and stuff (sorry about your boo-boo):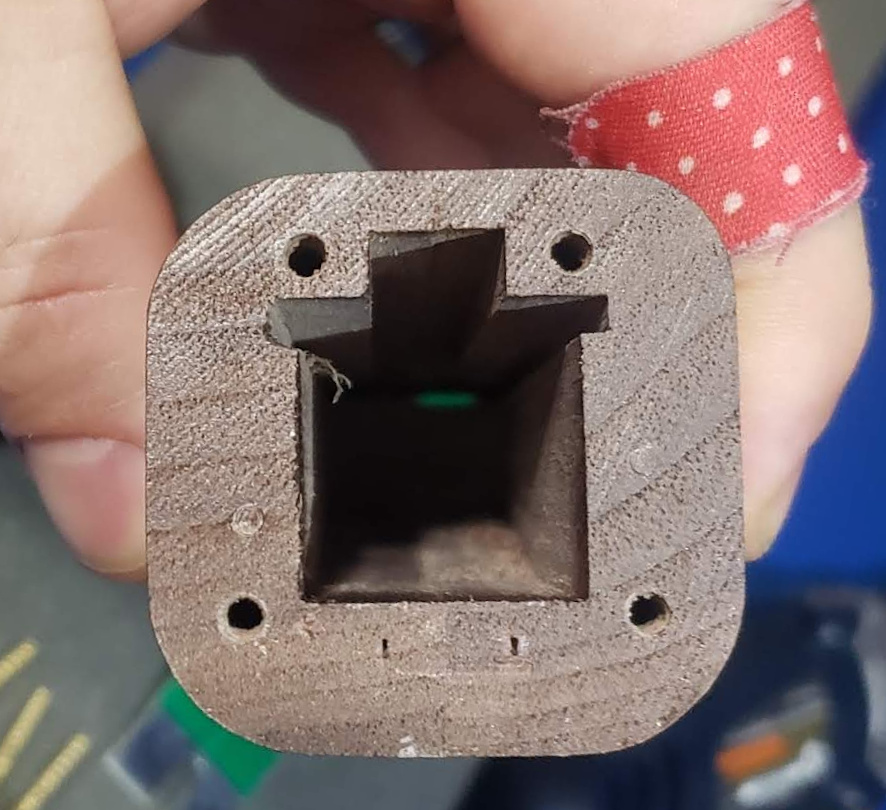 Looks like they left room for a second coil in series, so they had to machine that hole even deeper to fit it too.  I think I would put some splooge between that coil and the PCB like they finally did on the volume oscillator board, RF chokes are fairly fragile things:

So the whole right end of the arm acts like part of the pitch antenna - no wonder we see some playing close to the base of the rod.
"My next project will be working on some lighter weight replacement antennas (probably gold-anodized aluminum) and getting proficient with the software. 
Because the panels on the front and back are so simple, I think it would be pretty straightforward to fab ones out of other materials, such as aluminum or wood veneer."
The brass is pretty, but it must really add to the weight.  I maybe would have tried to insulate the antennas from the wood, not sure why they even bother with the molded plastic contacts on the inside - seems like the weakest link physically too, particularly for the volume loop.
"One of the things about performing with theremin is the relatively uninteresting instrument placed between you and the audience. There is a ton of space inside the Claravox, and a big panel facing out...I wonder what creative ways we could use that to help engage the audience? Beyond a bunch of blinkenlight, I mean..."
Rip out the guts and put a D-Lev kit in there! ;-)  A secondary tuner could face the audience.  (But then it would lose all value as a Moog status symbol, and all the world could see that you're using pitch correction.)