LC AFE Board

Been kinda agonizing over this for too long, finally settled on values, vector board size, IC locations, etc.  Anyway, really old news for anyone following this thread, but the most critical construct by far for the project:
Still using the 74LVU04N hex inverter, and the Littelfuse SP721 for ESD protection.  I decided to use 100 ohm resistors pretty much everywhere as the RC delay is minimal, and this protects things between the separate power supplied circuits, as well as the CMOS ESD diodes, and gives nice signal integrity over the relatively long connecting wires.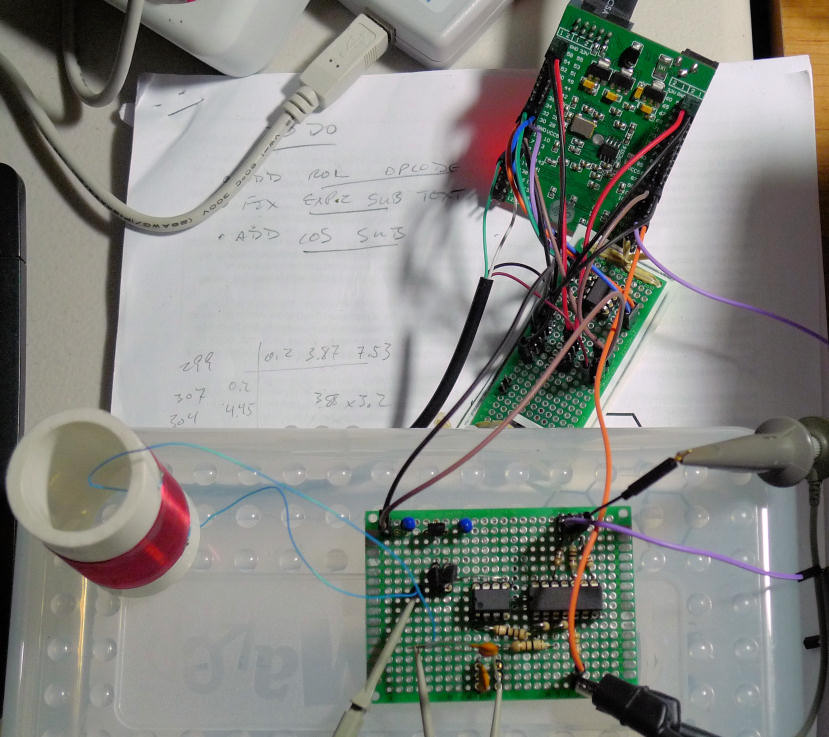 And here is the physical view.  The FPGA board is at top, the power distribution / FLASH / SPDIF TX board is in the middle, and the LC AFE board is at the bottom.  It's connected to a 0.3mH air core on the left, and the test "antenna" is a 10pF cap.  On the LC AFE board the 3.3V LP295 regulator is at the upper left, the NPN / PNP driver just below it (socketed), the SP721 in the center of the board, and the hex inverter to the right.  I've got things arranged so that a second LC can be hooked up (for use as the two axis volume side).  With the dummy antenna the board draws ~30mA when unlocked, and ~15mA when manually adjusted for quadrature phase.  The signals look really nice!
After much experimentation, it's pretty clear that the phase reference also needs to pass through this board (the lower output in the schematic), as the various delays are just too long to ignore at ~2.5MHz.  This should help with temperature drift issues too.