Been searching for plastic and aluminium extrusion for constructing my horizontal "Capacitive ribbon" sensor prototypes, and came across a load of "Dado" "Chamfered" trunking, designed for fitting on walls to house sockets etc.
These come in all sorts of styles. and are of this general form: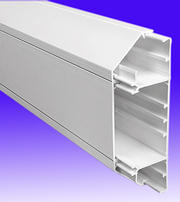 End pieces are available, one can get them with RA or angled "bottoms" and "tops" and they can have independant or combined covers as this:
from here.
Only bummer is I havent found them available in less than 3M length, at about £10 / Metre, end pieces at about £2 each..
But my thinking is thar with a bit of wood re-inforcement on the base and inside, it will serve my purposes as a prototype housing for the control box of my C-ribbon (I need 1 metre length, and theres no available enclusures for this) but that it may also be useful for anyone wanting cheap enclosures for prototype theremins.. the angled section could be ideal for mounting pots / displays etc.
I havent got this stuff yet - highly doubt it will be a good idea for any serious home brew or product designed to last (have no idea how tough it is) so I ma looking at it just as something to use for proof-of-concept - much easier to get someone who knows about fabrication or woodworking to implement a sensible construction and quote for a bespoke part if you can show them a model of what you need..
Fred.