A Little Summary of the D-Lev...
This is my third (or fourth, depending on where you start counting) iteration of Dewster's "D-Lev" (pronounced "dee-lev") theremin that he designed and chronicled in great detail in full view of everyone right here on Theremin World.  My motivation to be as involved in this project to the degree I have has evolved since I first contacted Eric in 2018.  At first, after being enthralled by some of his early cello voices that used his newly-added (at the time) inharmonic resonator I simply wanted to build one for myself.  But as we have hashed out issues and Eric has added features that I wanted I have become a true believer that the D-Lev is the ultimate theremin that I will see in my remaining lifetime.  And going beyond that I have become motivated to commit both time and money into a personal goal of helping get the D-Lev out there in the form of a loaner demonstration unit so that others can experience it too. I am admittedly a shameless advocate, but I have no stake in this other than to see Eric's dedication get rewarded and as appreciation for being let into this project.
For a year and a half the D-Lev has been my main theremin, and with few exceptions I have played it daily over that period. I play for myself, and I may never get beyond an intermediate skill level, but I find the D-Lev to be the easiest and most comfortable theremin to play.  I am one of many here that also has a Claravox on order, but I have to admit that I have resisted cancelling the order mainly out of curiosity and the urge to perform a tear-down of it.  I really don't think that the Claravox is going to blow me away in any way after having experienced the D-Lev.
The front-end controller section of the D-Lev allows the player to set up the pitch and volume fields as desired.  If you want nearly perfect pitch linearity over seven or more octaves right up to the antenna, you can have that.  If you prefer your pitch field to be non-linear like that of a stringed instrument you can have that too.  If you like to play with your pitch arm closer to your body for added stability you can shift the entire field toward you so that you never have to get any closer than an inch or two from the antenna.  On the volume side you can adjust the contour from straight linear all the way to having such a sharp knee that it almost acts as an on-off switch. The pitch-preview options are extensive (the Claravox doesn't even have any), and should you want to use it, it also has pitch correction that is highly configurable and designed specifically to be minimally detectable in use.  And of course the zero-lag visual LED tuner is always there to allow you to keep an eye on pitch and set up volume thresholds.
The synthesizer back-end has multiple oscillators, a noise generator, multiple filtering options, an inharmonic resonator, and a bank of formant generators to allow you to create resonant peaks in the frequency response to emulate real instrument bodies or the sound of human voices.  Two of the most powerful features of the D-Lev synth are the "vmod" and "pmod" modifiers.  These modifiers appear on many of the pages of the user interface and give the player the capability of modulating a parameter (such as the frequency of a resonant peak or the corner of a low pass filter) with volume or pitch.  I worked for a long time developing an add-on voltage-controlled analog filter and conditioning circuit to add this capability to an Etherwave to help ameliorate some of the "chipmunk voice" timbre that results when using wave shaping for voice control as the EW does.  The D-Lev on the other hand has this modulation capability on a number of parameters, even pitch preview.  For example, I use a pmod value of -20 on the preview signal to offset the fact that higher pitches are apparently easier to hear and can seem too intrusive at high pitches.  This setting counters that and helps maintain the same apparent loudness over the full range of pitch.
I can't describe all the features of the D-Lev, and this is starting to sound like a marketing pitch anyway, which isn't my intent.  I guess I'm trying to explain why I do what I do, as if a hobby really needs any explanation.  Anyway, here is the latest realization of Eric's D-Lev.  If you like what you see or what you will soon hear I suggest that you contact Dewster (or me, and I'll contact him) to show your interest.  If this is to go anywhere I think there would need to be a real mechanical packaging designer on board rather than me, a retired EE that dabbles in DIY projects.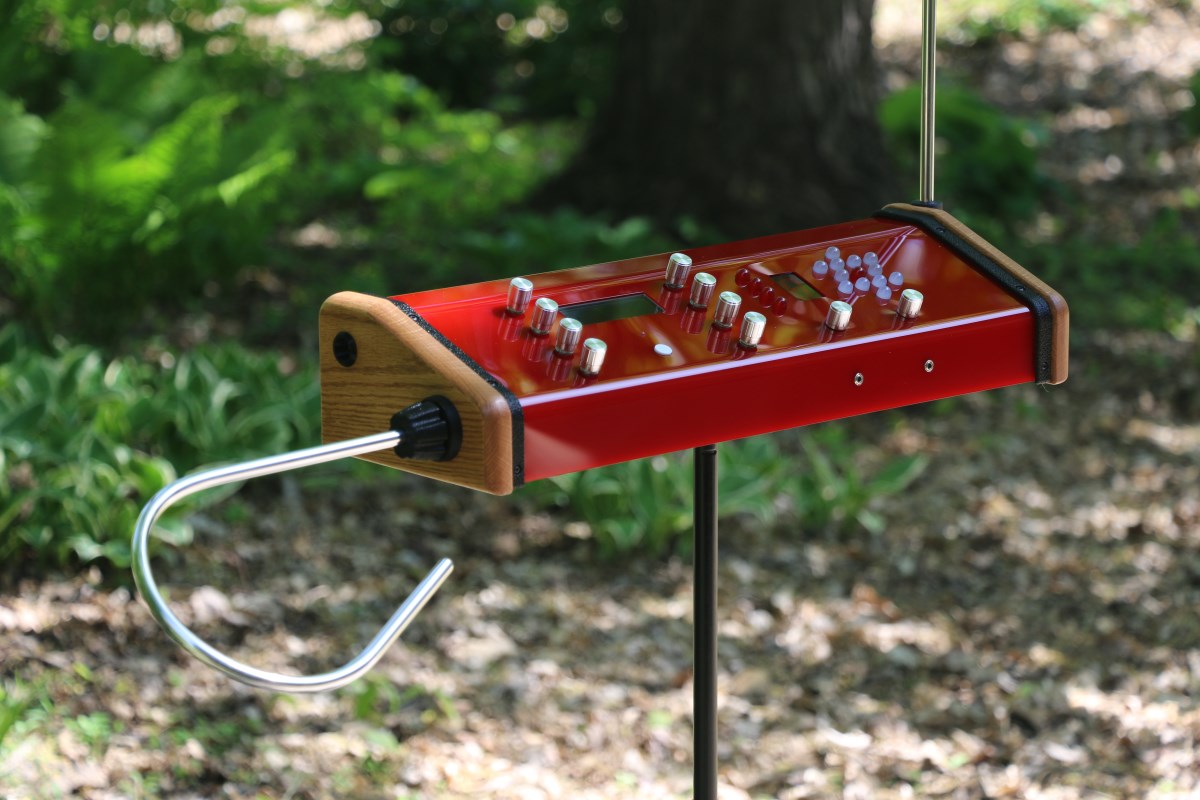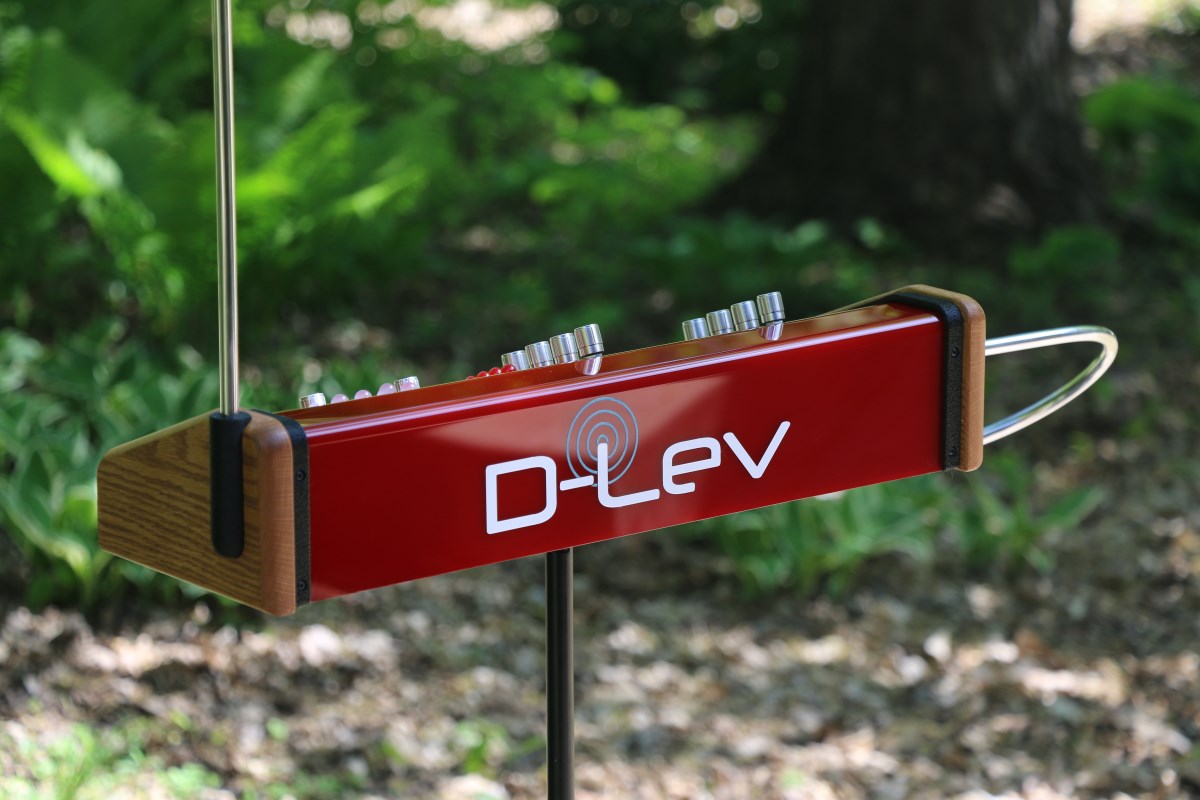 This is a fork of the original PIII build thread started here.
I've been racing to complete this before summer home-maintenance duties begin cutting into my theremin play time.  This particular (red) version was made from one of several different colored acrylic panels that I bent in one session a couple months ago.  I had expected to run into a number of problems on the first build and I chose the red and the plain oak ends because I wouldn't be heartbroken if they got wrecked in the process.  As luck would have it I didn't run into any major problems, and in fact the red began to grow on me after while, so this will be a keeper.
This build has all of Eric's (Dewster's) latest features including display dimming, push button muting, and MIDI out. I have also added a pair of gain adjustable analog buffer amplifiers for dedicated control of line and pitch-preview levels, and an infrared proximity sensor above the volume loop provides no-contact muting.  After several iterations I have circuit boards that are free of any cuts and jumpers, and nearly all board-to-board interconnects, including line-level audio use easy-to-build ribbon cables.  I'm still evaluating whether there will be any crosstalk issues between the digital and audio, but for now everything seems quiet.
Since the beginning we have always taken a modular approach for the various pcb subsystems to avoid having to re-spin a single large board every time an error was found. But as it turns out I like having everything modular for ease of updating the hardware, and with the incredibly low cost for pcbs these days it really doesn't matter if the theremin uses eight different boards.  Many of the smaller circuit boards are less than a dollar  (I use JLCPCB - highly recommended).
This is my third D-Lev prototype that I've built, and ironically it's the most conventional enclosure design.  I think there is a reason that most theremins tend to come in long boxes with an antenna on each end.   More stylish enclosures like the Etherwave Pro (and my P1 copy of it) and the newly released Moog Claravox ultimately need to have an arm sticking out to support one of the antennas and provide adequate pitch/volume separation.  This adds a little to the complexity, and the vertically-oriented cabinets tend to distribute panel controls out of the sweet spot for player reach and visibility.
So screw the stylish designs for now.  I've been playing my PI "Pro" D-Lev for a long time now and I still grab the wrong knobs sometimes because they're oriented in vertical banks below the display.  Early on when I started putting the sloped-front test unit for PIII together I immediately liked the layout, and I still do.  Having the encoder knobs on either side of the display is a bit of a tradeoff because your hand does block the LCD view if you cross-control, but for me it's no worse than reaching below and feeling for the correct knob.  Putting the encoders beside the display was pretty much necessary for the horizontal cabinet layout, and it's perfectly fine to me now, and I do like having the tuner in a good spot inside the cabinet instead of external.
Here is an early shot of four sets of coils that I wound to go with the potential build of four units (at least one is for Eric).  Even though they look the same they are 1mH and 2mH: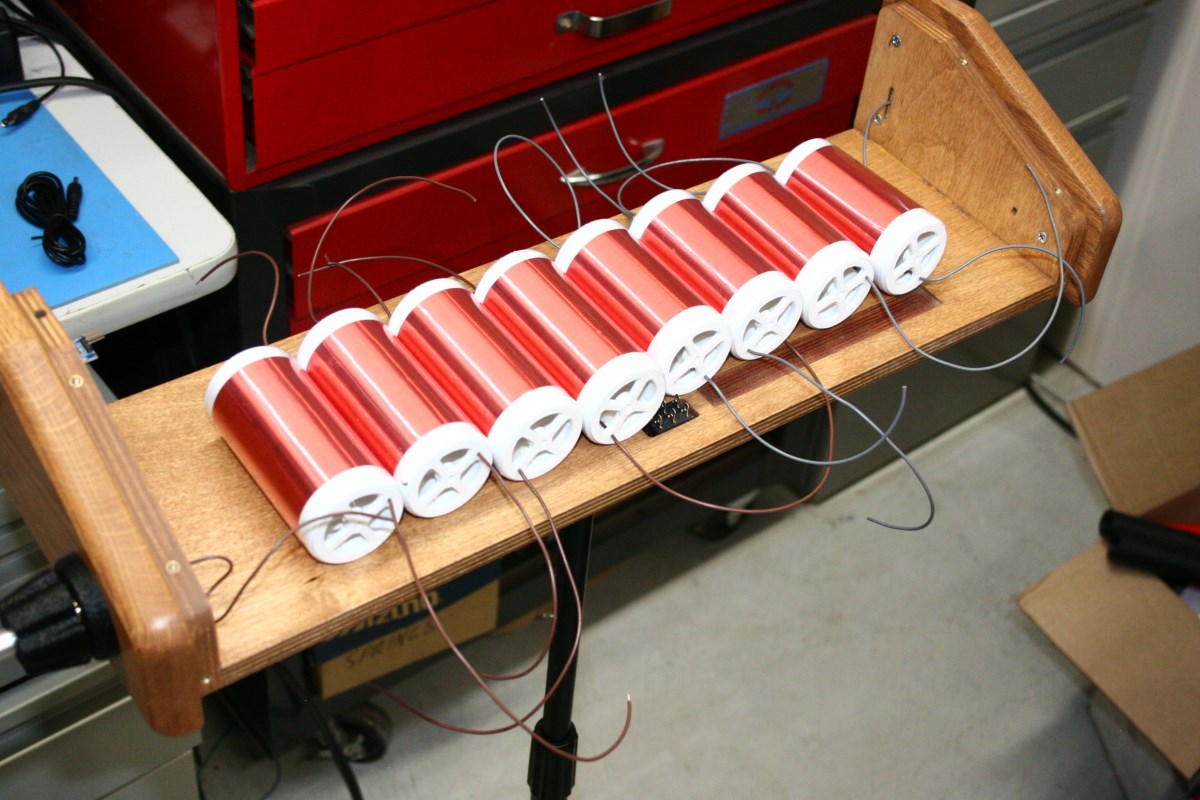 Below you can see the boards that are attached to the acrylic panel.  On the left the upper board with the smaller piggyback board is the tuner display.  Under that you see the edge-on view of the dual audio board with the purchased piggyback S/PDIF decoders.  On the right is the main assembly of 10 individual circuit boards plus the purchased FPGA board:
Here are some better views: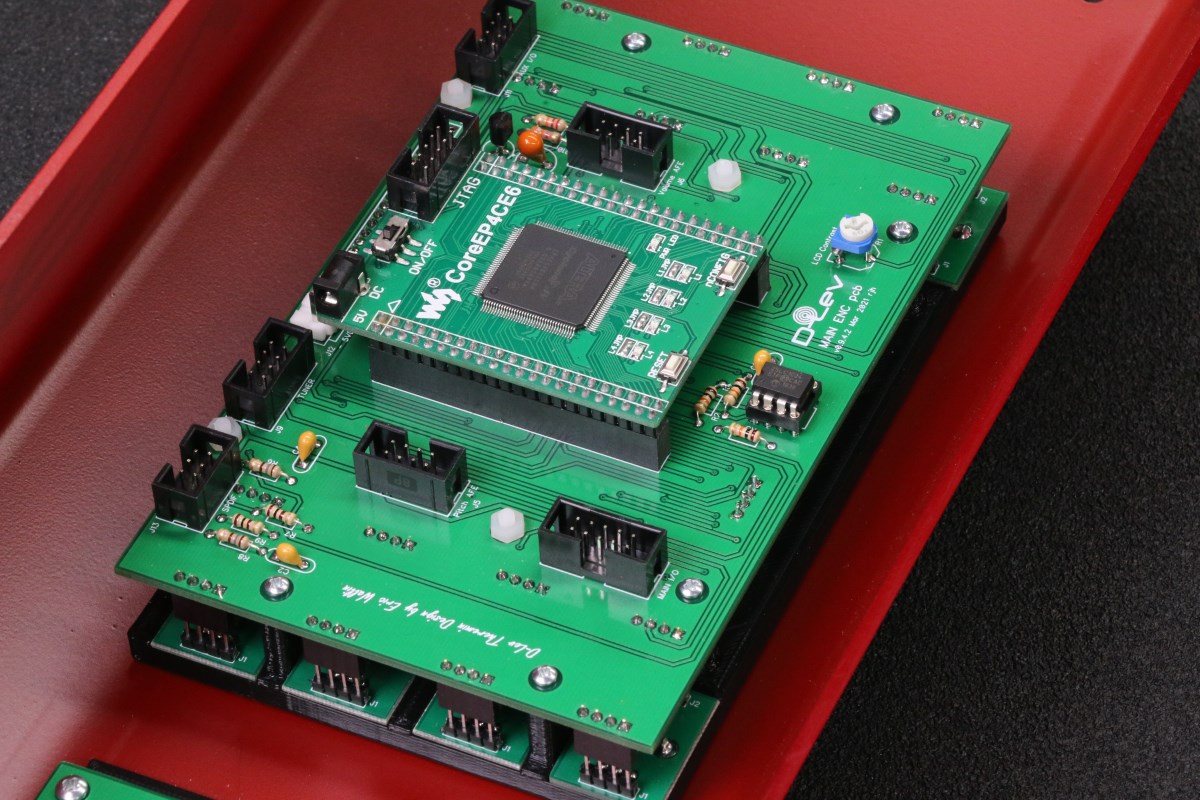 That matte finish on the backside of the acrylic is paint.  The acrylic is a touch too translucent to avoid shadows when left uncoated.
Next we have the I/O connector board that mounts to a 3D printed connector panel on the base of the enclosure.  This board is mostly a bunch of interconnects but it does have an active driver for the MIDI output and a piggyback USB serial adapter (purchased).  The connectors from left to right (in the right picture) are a 3.5mm jack for an automatic calibration (acal) pedal , Monitor Out (stereo), Line Out (stereo), MIDI out, and USB.  The 4-Pin aircraft connector just above the mic stand mount is for 5v power using a standard supply modified by cutting off the typical barrel connector and replacing it with the matching thread-on female aircraft connector, so that the power cable can't fall out.  Just below the threaded mount is a banana jack to connect to earth or other local ground and below that is the power switch, which to the player is front and center on the bottom of the enclosure.
I should note that I have extremely noisy power where I live, with random noise bursts that you can actually hear throughout the house as buzzing in some wall-wart power adapters and even a ceiling fan.  Of course these can ruin any attempts to make theremin recordings, and so far I haven't found any power filters that are very effective against it.  For the past few months I have kept my PI "Pro" D-Lev isolated from earth ground and instead I connect myself to the theremin ground by using either a wrist strap or a conductive ESD pad under my seat (I always play seated with pants on!).  Now when I hear the noise bursts coming through rest of my audio equipment at least the theremin is stable.  Given the importance of having options for the all-important theremin radio frequency (RF) ground return I thought that it would be useful to provide a convenient banana jack to serve as either the primary earth ground connection (running to a special banana jack adapter - shown below- that plugs into a grounded mains outlet) or as a point for plugging in a wrist/ankle strap or a conductive seat or floor mat.
This is the mains ground adapter that I have used with theremins using ungrounded wall-wart power supplies: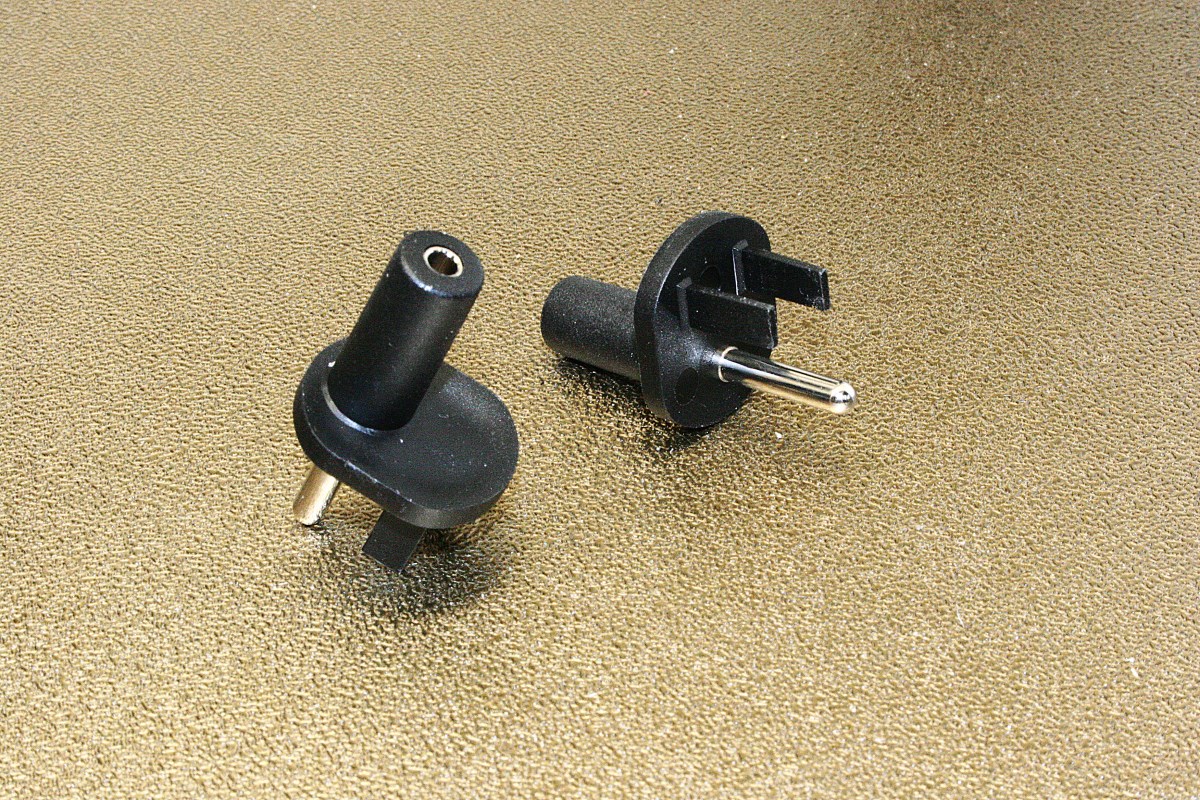 The flourishing array of "personal grounding products", some of which appear to be based on pseudo-science or medical "woo" may actually be of some use to the thereminist.  I'm not sure what might be healthy about these products (except the price tags), but if they are at least conductive as portrayed they may find use for the thereminist who can't rely on mains grounds.  But beware: I have heard of products with wires attached to a non-conductive plastic material, which is of course useless.  Nevertheless, I found the adapters shown above by searching in this questionable category of products.

For the I/O panel on the bottom of the theremin the connector layout was designed to minimize the cable mess hanging down from the theremin body, and the connector locations were prioritized to put what I guessed to be the most important cables nearest to the mic stand.  Power, ground, and line out are centered in line with the post, and moving outward are the less frequently used connections.  They are still within easy reach of the mic stand so that they can all be clipped or velcro strapped together.  At least there are no cables coming out of the front panel (except for the headphone/monitor jacks).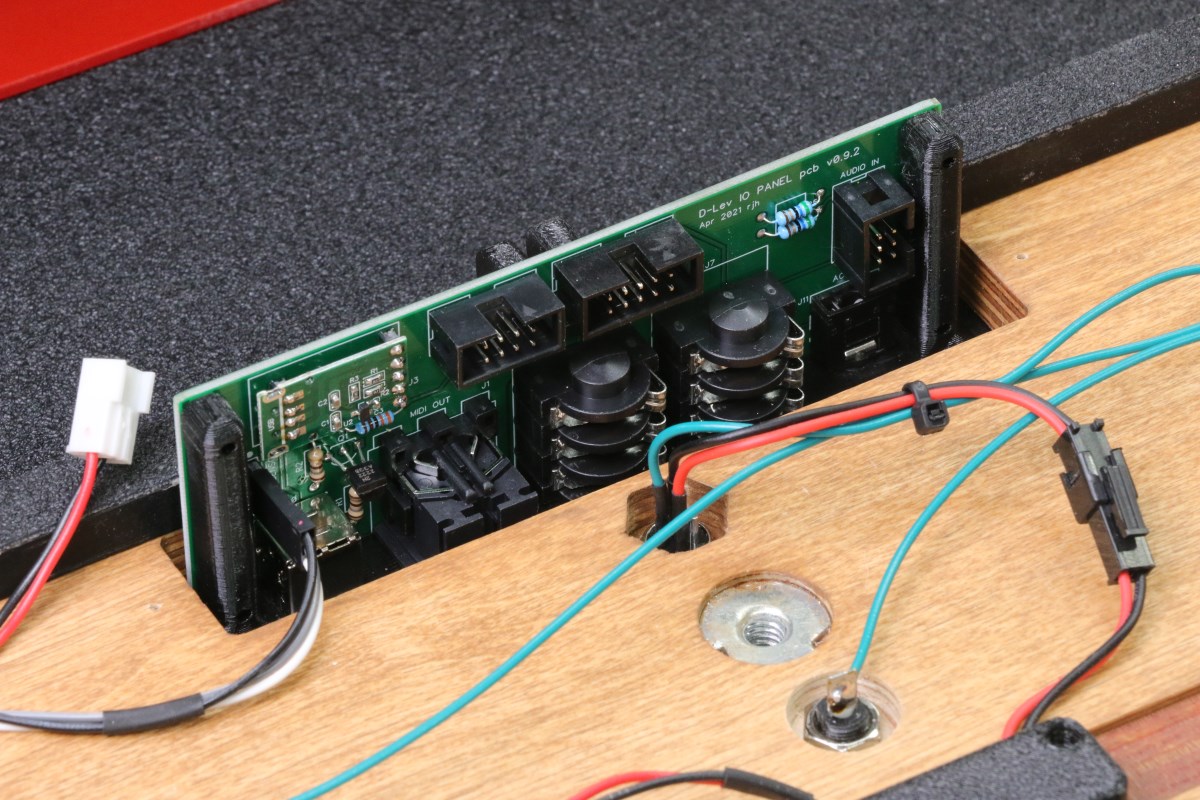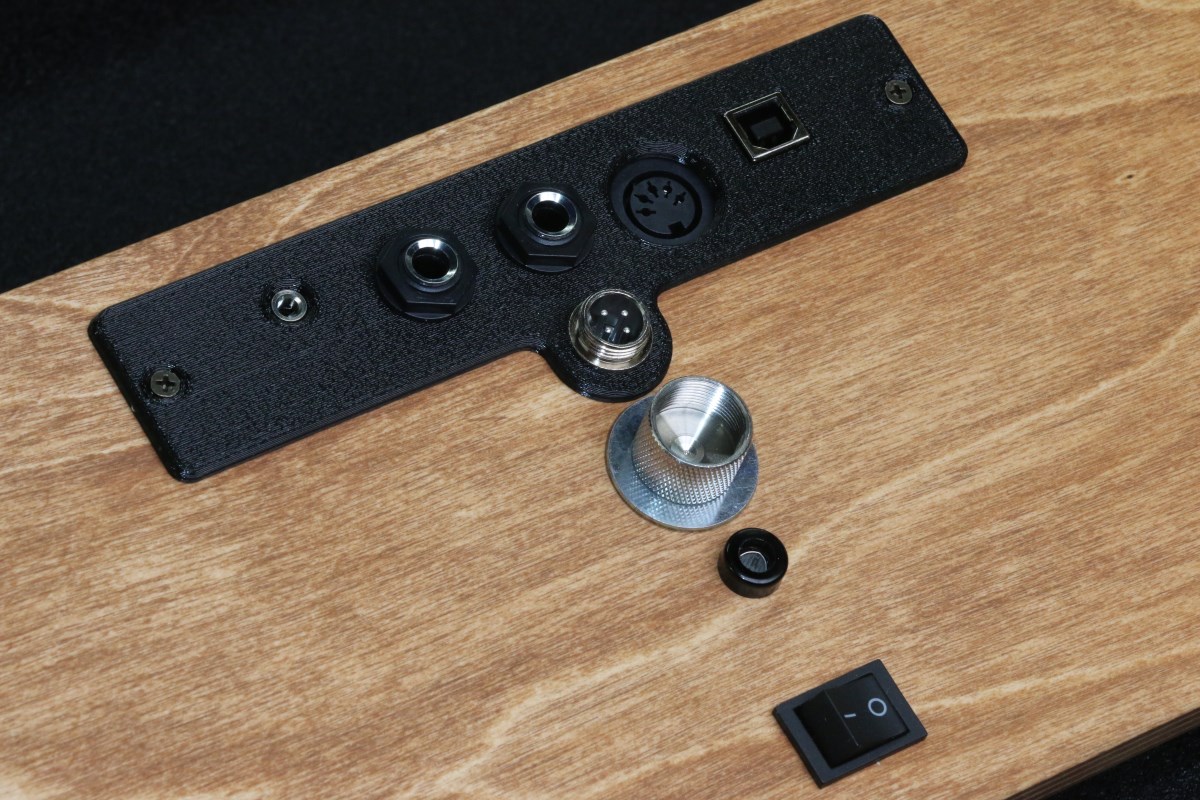 For now there are no labels on any of the PIII's controls or connectors.  I can add labels to the bottom easily enough, but I wouldn't bother to screen print the top panel unless I had a few of these lined up ready to go, and I'm not planning to get into the business of building theremins in quantity.  I tried engraving the text on the acrylic panels on my early test runs, but I found it to be inconsistent and risky because the slightest depth variation when using a pointed conical engraving bit results in thin or fat text lines.  If I had a CNC router with a proper vacuum table to uniformly suck down the acrylic panels I would try it again.  Actually the only  text needed on the front panel would be "Mute" above the push button and "Line" and "Monitor" labels above the two audio level controls.  I'll find some way of putting text on the theremin that is better than simply using printed labels.
To be continued...