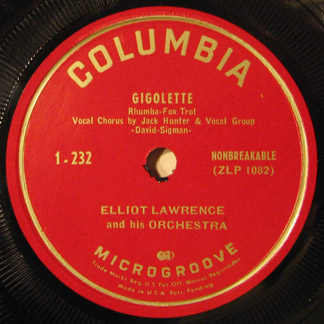 The importance of Lucie Bigelow Rosen to the existence and history of the theremin cannot be underestimated. Soon after Lucie Bigelow Rosen became a student of Leon Theremin in 1930, she and her husband enabled his continued work by providing studio and workshop space as well as financial backing.

Lucie Rosen became a very active concert performer on the theremin and worked closely with Leon Theremin on customizations to the instruments he built for her. She toured internationally, commissioned new works for theremin, and spoke frequently promoting the it. And though very little of her legacy as a player has survived, she was Leon Theremin's greatest benefactor and a critical part of the instrument's early survival and evolution.

Until now very few in the contemporary theremin community had ever heard Lucie Bigelow Rosen play. Primarily a classical performer, it is surprising that such an atypical piece as Gigolette, a big band specialty number, should bring her back to eager ears.

This rare find comes to us from thereminist, Kip Rosser. In noticing the promotional blurb on the back of one of the photos of Rosen and Lawrence that were for sale on the internet, he realized that he'd found proof that a commercial recording of Lucie Rosen was made and actually existed, at least for a time. Mounting an extensive wild goose chase internet search over the course of a few days finally yielded the long-forgotten recording!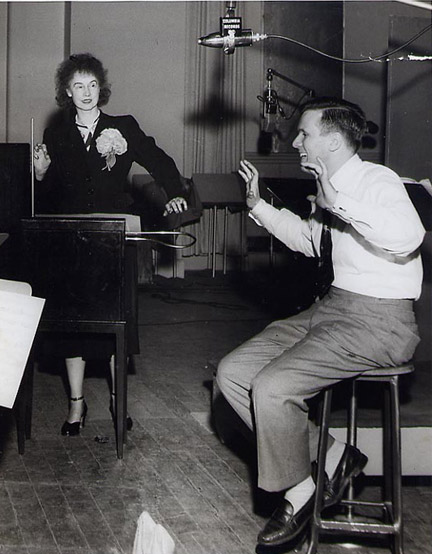 Promotional photo of Rosen and Lawrence at Gigolette session,
and on the back of this promotional photo:


This recording was made late in 1948 or early 1949.

Two recordings were located, one of which may be the rarest of all. It is a 78 RPM with a specialty label identifying it as a promotional recording sent exclusively to radio stations for airplay. Both were acquired because it was not uncommon for two recordings of the same name to contain different takes. However, in this case, it is the same take on both records.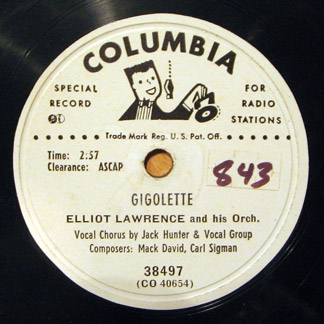 Notice on the labels Lucie Rosen's name does not appear on either recording. Still we can establish that it is indeed her as a result of the publicity pictures, plus the Columbia Records promotional copy that was attached to the back of one of the photos. This blurb specifically names her as the thereminist who made the recording.

A longstanding subject for speculation among thereminists and theremin enthusiasts is that Lucie Rosen's estate must surely have recordings of Lucie playing the theremin. Visitors to Caramoor have reported being able to listen to a sample of her palying there, but nothing of the kind has ever surfaced for public review. Featured on http://www.thereminvox.com/ is a segment from a radio broadcast during which Lucie Rosen speaks about the instrument. This recording of Gigolette may well be the only example of Rosen's playing that most of us ever get to hear.

Drew Techner, writing about Elliot Lawrence's career mentioned this record.
""
Columbia