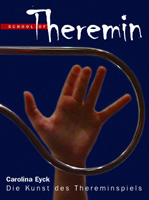 Carolina Eyck's website has an interesting teaser for an upcoming textbook on playing the theremin to be released some time in the 3rd quarter of 2005.
The book is to be published by SERVI, and pre-order information is available by e-mailing info[AT]servi.de.
The book appears to be in German - no word yet on whether an English edition will be available.