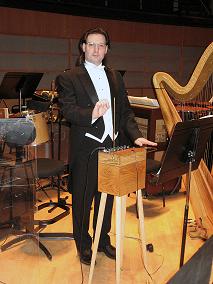 The Edmonton Symphony performed a series of music from film on Thursday evening, March 2nd, including Miklos Rozsa's 'Spellbound Concerto'. Although the work features a solo pianist (Ms. Sara Davis Beuchner played the lush and demanding part), it also calls for a theremin to play the 'Spellbound' theme in the middle movement. This part was played by local thereminist David Marko, who supplied his own instrument for the task, a custom-constructed PAIA Theremax. This performance, well-received by the audience, is very likely the first appearance of a theremin with the ESO. The Symphony will contact Mr. Marko exclusively for any future performances.
David writes:
I might add that I was 'mobbed' at the intermission by enthusiastic audience members wishing to see and hear more of this instrument. I obliged with several demonstrations, including a section of Saint-Saens' 'The Swan'. A thoroughly enjoyable experience for me, and a good local kick for World Thereminization.
Bravo Mr. Marko, and my apologies to Mr. Marko for the month and a half long delay in posting this story!