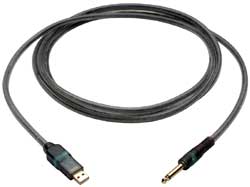 The SoundTech LightSnake USB Intelligent Instrument Cable
might just be the easiest way ever to record your theremin. Just plug in the 1/4" end to your instrument and the USB side to your PC or laptop, and away you go. The cable has a built-in audio-to-digital converter so you don't need any other amplification devices in order to connect to your computer. No additional drivers are needed, and it's compatible with Windows 98 SE / Windows ME / Windows 2000 / Windows XP and Mac OS9 / OS X.
More info at SoundTech.com. Purchase for $39.95 at Music123.com
.
Via: Music Thing