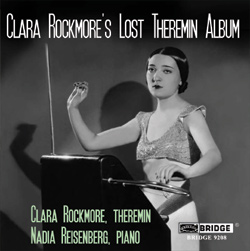 Fans of "The Art of the Theremin", rejoice! There's a new Rockmore album on the horizon. Clara Rockmore's Lost Theremin Album
is a compilation of performances from the same recording sessions that brought us "The Art of the Theremin", featuring Clara Rockmore on theremin and her sister Nadia Reisenberg on piano.
The album is being released on Bridge Records and will ship on December 26th. However, you can pre-order it at Amazon
and other dealers today.
Thanks, Teracaster!