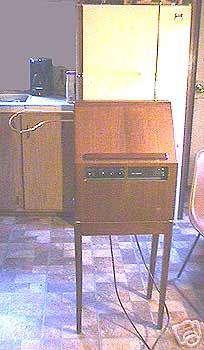 Long time LEVNET member and participant in the 1997 Theremin Festival in Portland, Maine, Ross Marshall is selling his autographed Big Briar Series 91A theremin on eBay. For some reason, the listing is hidden in his personal eBay store and does not appear when you do a general search for "theremin" on the auction site.
Along with the theremin (which is very very rare to see on eBay), Ross is including a padded case and a Big Briar diamond-shaped speaker. It's the complete package!
For recent theremin converts, Big Briar was the former name of what is now known as Moog Music, Inc. The Series 91A sold around the early 1990's and included 3 cabinet styles. You can learn more about the Series 91A in our Theremin Gallery.
The auction is listed with a "buy it now" price of $4900 and a "best offer" feature as well. This could be a great deal in the making for some lucky person.