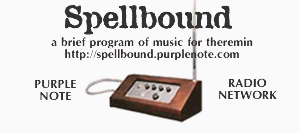 Spellbound, a brief program of music for the theremin, remains one of the richest and most eclectic venues for theremin music around.

Hosted by David Vessel, not only was the show expanded to two hours last year, but he has redesigned the show's web site for easier use and to include many new features including a Spellbound store!

Congratulations David, and thanks for all the hours of theremin-pleasure.