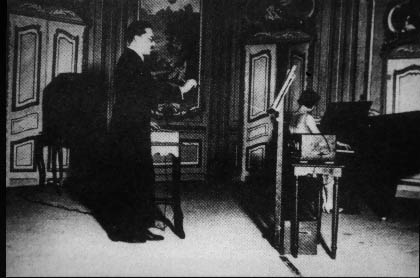 The Turangalîla-Symphonie, one of the more unusual works by one of the most visionary composers of our century is getting a rare full performance in the Northwest Mahler Festival under the direction of Geoffrey Simon with the French-born Ondes Martenot player Thomas Bloch.



From:
Melinda Bargreen Seattle Times music critic

""
The "Turangalila" plans have an international scope. The score calls for an "Ondes Martenot," an electronic instrument invented in 1928 that sounds a little like the theremin (remember the swooping sound in the Beach Boys' "Good Vibrations"?). One of Europe's leading specialists in the Ondes Martenot, the French-born Thomas Bloch, will play it in Seattle, along with another featured soloist, New York pianist Jay Gottlieb, commended by composer Messiaen for "his ideal performance" of Messiaen's music.
""
Turangalila Symphony, 7 p.m. Sept. 9
Benaroya Hall, 200 University St.
Seattle.
Tickets: 800-838-3006

Some info on the work from Wikipedia:
""
The Turangalîla-Symphonie is a large-scale piece of orchestral music by Olivier Messiaen. It was written from 1946 to 1948, on a commission by Serge Koussevitzky for the Boston Symphony Orchestra. The premiere was given by that orchestra on December 2, 1949, conducted by Leonard Bernstein in Boston. The commission did not specify the duration, orchestral forces or style of the piece, leaving the decisions up to the composer. Koussevitzky was billed to conduct the premiere but fell ill and the task was then given to the young Bernstein. Messiaen's second wife Yvonne Loriod was the piano soloist and Ginette Martenot played Ondes Martenot for the first and several subsequent performances. From 1953, Yvonne's sister Jeanne Loriod was the Ondes Martenot player in many performances and recordings.

While most of Messiaen's compositions are religious in inspiration, at the time of writing the symphony the composer was fascinated by the myth of Tristan and Isolde, and the Turangalîla Symphony forms the central work in his trilogy of compositions concerned with the themes of romantic love and death...
""