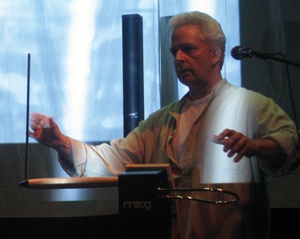 The Electro-Music Chamber Orchestra Comes to Princeton

December 15, 2007 David Sarnoff Library Auditorium 7:30 PM 201 Washington Rd Princeton NJ

Admission $10 per person at the door For information: 609-734-2636

It's the time of year when the streets and houses glow and twinkle with festive lights. Everything's wired and bright, including the Electro-Music Chamber Orchestra, the sonic ensemble that's more plugged in than a city block.

Any self-respecting electronic chamber orchestra would be incomplete without the granddaddy of all electronic instruments: the theremin (the only instrument that's played without being touched). Thereminist Kip Rosser will be on hand to weave the theremin's haunting and beautiful voices into the mix. http://www.performancekr.com/theremin.html

During the second set of the evening, Moscovitz, Waltzer, Fox and Rosser will complete the ensemble. The fully formed Electro-Music Chamber Orchestra will perform a collaborative exploration of the vast territories of harmony, rhythm, melody and silence. Think Vangelis meets Sci-Fi with a dash of Brian Eno.