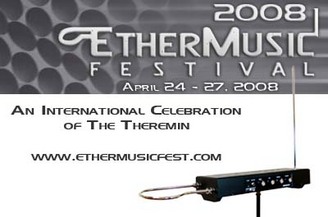 It's EtherMusic season! Moog Music has officially announced the 2008 EtherMusic Festival! This year's event will be held in Asheville, North Carolina on April 24-27, 2008. (If you haven't been to Asheville in the spring, you haven't fully enjoyed life!)
Registration for the festival is now open, and you can sign up at the festival's website, Ethermusicfest.com. Register before March 1st for an early-bird discount.
Update - The festival's MySpace Page, http://www.myspace.com/ethermusicfest, went live today. Check it out to hear music samples from the headliners and get updates and see photos from the 2005 festival.
Building on the great success of their last event, this year's festival will feature another composition contest, workshops, concerts, a Moog Music factory tour, and a full lineup of stars including Lydia Kavina, Dorit Chrysler, Carolina Eyck, The Xenovibes and Randy George!!