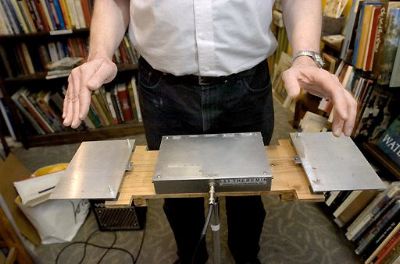 Art Harrison with his Theremin, photo: The Gazzette.net

It took Rockville Maryland's Arthur Harrison almost 20 years to perfect his custom theremin design, and like most of us many hours of work to master playing it.

Arthur has been turning heads and spreading the Theremin Word around MD performing solo at various venues, including informal ones like cafes and book stores, and as a member of the electronic music band The Cassettes.

He owns Harrison Instruments where he designs and sells several styles of theremins with a continuing commitment to refine Lev Termen's original design. His instruments range from $1,300 finished instruments to $50 theremin kits.

Patrick Dunne of the Maryland Gazette interviewed Art and wrote a great article on his instruments, performances and theremin outreach.

No stranger to ThereminWorld, Harrison's RCA schematics are included in Dayfan's TW article RCA Theremin Component Values and Cabinet Dimensions and supported the Semi-Replica RCA project.
The Harrison Model 145 Theremin is part of our Theremin Schematics page.