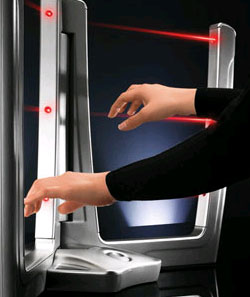 Fans of the laser theremin, rejoice! Sharper Image is now taking orders for the beamz Music Performance System
. Break the beams of light with your hands to trigger pre-sampled instruments, loops, and drum beats. According to the product manual, it is primarily a controller and must be connected to your PC (Windows XP or Vistas) via a USB cable in order to produce sound. beamz has 30 built-in collections of sounds/instruments, or "songs" for your playing pleasure.
And the fun doesn't stop there...
The beamz interactive music system brings families and friends together through highly personalized music performances that elicit joy and excitement across all ages.
Just imagine all that laser-min fun and familiy goodness in one neat package! I wonder if anyone out there will hack this thing to add a MIDI interface? From a visual perspective, it certainly presents well.
A beamz system will cost you $599 and expected to start shipping around April 15th. Luckily, Sharper Image is offering free Shipping with orders over $75 - (expires 4/30/08)
. I've asked for an evaluation unit to review - keep your fingers crossed.
Via: GearLog