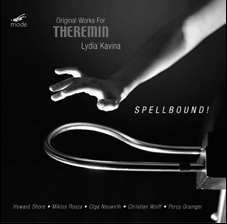 Cover: Brian Brandt

Opening with Howard Shore's Suite from Ed Wood (premiere recording), Lydia Kavina entrances us into an amazing musical journey in her new album "Spellbound!" on Mode Records.

There are more premieres, Suite aus "Bählamms Fest" by Olga Neuwirth and Exercise 28 by Christian Wolff. The program is rounded out with three Percy Grainger pieces and closes with a luscious performance of the Miklós Rósza Spellbound Concerto (premiere recording of the chamber ensemble version).

Traveling through a wide range of styles and musical textures, this is one of the broadest theremin albums around, with vital performances conducted by Charles Peltz, captured in new pristine hi-fi recordings (except one of the Grainger from a previous album). The booklet includes extensive program notes by Theremin scholar Olivia Mattis which adds a lot to the CD and offers insights into Theremin and the five composers.

There's a bonus too! the CD is enhanced for use in a computer with a video of interviews with Lydia, the composers, and shots of the sessions from the making of the album. (It is in mp4 format so you may need to get a player for it.) It looks like Lydia is playing one of the theremins custom built for her by Anthony Henk, an unusual and very open looking design. A witty photo of her with it is on the back cover.

A indispensable addition to our theremin music collections from one of the finest musicians of our time. Thank you Lydia for this wonderful music and theremin playing.

Special thanks to Olivia Mattis for her assistance to ThereminWorld in finding this CD.