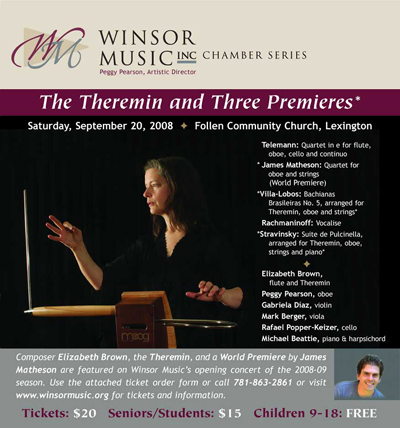 ThereminWorld member, Elizabeth Brown, a well established thereminist (she performed with the American Symphony at Lincoln Center last year) and composer for the theremin (2007 Guggenheim Fellowship) will be featured in the opening concert of the Winsor Music Chamber Series in Boston (Lexington) Massachusetts.

Titled "The Theremin and 3 Premieres" the program will feature new arrangements for theremin and chamber ensemble including
the Villa-Lobos Bachianas Brasileiras No. 5 (arranged for Theremin, oboe and strings)
and Stravinsky's Pulcinella Suite (arranged for Theremin, oboe, strings and piano).
Elizabeth will be performing on theremin and flute.

Saturday, Sept. 20, 2008 at 8:00 pm
Pre-concert lecture by James Matheson: 7:00 pm

Follen Community Church
755 Massachusetts Avenue
Lexington, Massachusetts
Winsor Music Inc. 781-863-2861

Fellow TW Member Brian R is performing his new work (for clarinet, marimba, theremin, and cello) also up in Boston on the 19th Dança da Tranquilidade
Looks to be a great weekend for aether music if you're in Mass.!