Of the three biggest influences in the early history of space controlled instruments, the theremin triumvirate of Lev Termen, Clara Rockmore, and Lucie Bigelow Rosen, Lucie Rosen has been the least documented and appreciated. Almost no recordings of her have been available.

With her work as sponsor of the inventor, Lev Termen, a commissioner of new works for the theremin, and a touring performer, Lucie Rosen was tremendously important in the early life and eventual survival of the instrument. She and her husband, Walter Rosen, also created a lasting public legacy in The Caramoor Center for Music and the Arts where her theremin, built by Lev circa 1935, is still displayed.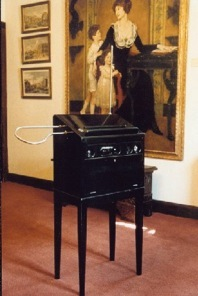 Rosen's Theremin (photo: T. Holmes)

In Dec. 2007 ThereminWorld was delighted to help share Kip Rosser's find of a rare recording by Lucie performing in a big band arrangement called Gigolette

Since that time music historian Thom Holmes has consolidated and expanded on the currently available information about her in his article "The Lost Recordings of Lucie Bigelow Rosen"

As part of that process he has been able to share another recording restored from the Caramoor archives of Lucie Bigelow Rosen performing on her theremin with piano. The recording was a 78 RPM glass master coated with acetate most likely made around 1946 and 1947.

This is a great addition to the documentation of theremin history, and a unique chance to hear Lucie Rosen play just a little bit more.
Many thanks to Thom for publishing this material and for sharing it with ThereminWorld.