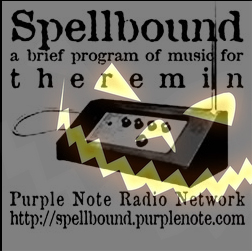 It is SkooOO000OOooky Theremin Time Again.
The infamous Spellbound Halloween is on it's way!

This year's Halloween special is on....Halloween! A special night and time, HALLOWEEN Friday night, Oct. 31st, at 10 PM Eastern US time on Cygnus Radio. Two hours and change of new and play list Halloween music!

If you have scared yourself playing and got a recording of it you want to submit, you have until Thursday October 30th to get your new music to David Vesel for the Halloween special. You can email him at spellbound (at) purplenote.com and David will furnish additional information and instructions.

Thanks David.
And Happy Halloween Everybody!