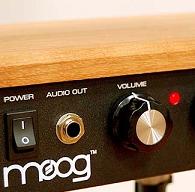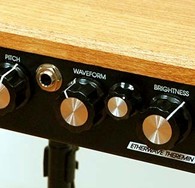 By popular demand, Moog Music has started offering 2 factory modifications for Etherwave theremins. One modification adds a red power LED so you can easily tell when your theremin is powered on. Interestingly, the original line of Etherwaves included a power LED, and I've always been curious why they removed it in later revs of the Etherwave.
The second modification adds a pitch preview feature that allows you to hear the sound from your Etherwave through headphones even when your volume hand is fully damping the sound. This is helpful for starting off on the right note at the beginning of a song or after rests.
Moog is also offering a modification for the early models in the Voyager synthesizer line to bring them up to match the specs of currently shipping units.
The modifications are available separately or together. As of this posting, the power LED mod costs $59 USD and the pitch preview mod goes for $179 USD. When purchased together, the 2 mods cost just $199 USD.
Both theremin mods have been listed in the Etherwave Hotrodding manual for quite some time, but there's just something nice about knowing they're being done and backed by the same experts at Moog Music.
Be sure to contact Moog Music for a return authorization before you send in your theremin! Find details on the whole process at Moog's factory mods page.
So how about it... are you going to send in your theremin for modifications? Have you already applied other mods?