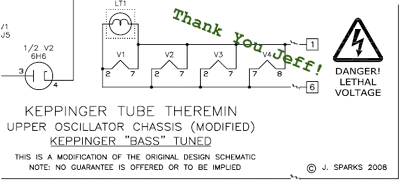 ThereminWorld member and friend Jeff Sparks has spent a great amount of time collecting and drafting highly detailed schematics for the famous tube theremin design by Mark Keppinger.

During a process that took over a year, Jeff not only corresponded closely with Mark Keppinger and incorporated his advice, but also communicated with other principal figures in the Theremin Building Community including Steven Hasten, Howard Mossman, Vincent Reneauld, and fellow TW member Philip Neidlinger (who has also provided links to his notes on the construction of his tube theremin in the Construction Forum).

Jeff has kindly provided ThereminWorld with the drawings and they are available on our Theremin Schematics page.
Mark's work continues to expand in solid state form too, as Philip and Jeff have been reporting in the forum

Many thanks to Jeff, and of course a grateful nod to Mark, Philip and everyone who helped in the process of making this important information freely available to our community!