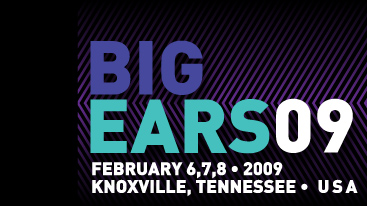 The Bob Moog Foundation
will be bringing its Interactive Sonic Experience, or
MoogLab
, to the inaugural
BIG EARS '09
music festival in Knoxville, Tennessee.
BIG EARS
'09
, taking place this weekend (February 6th-8th), which looks to be a wild three days of musical explorations. And Pauline Oliveros will be there too!  
After some astounding
theremin controlled video
setups last year, The Foundation will be offering its
MoogLab
experience throughout the weekend. A team of volunteers will be guiding folks through several interactive stations of Moog
theremins
, synths, and effect pedals.
The mission of BIG EARS is to offer an exciting and dynamic platform of musical and artistic discovery, presenting a variety of new music concerts and performances, discussions, and installations.