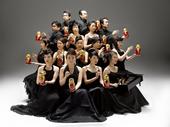 Masami Takeuchi's Matryomin ensemble "Mable" has released it's first CD, or at least a sampler of it called "SHOKOU mini album for overseas regions" available for download from mandarinelectron and at iTune Stores!

Matryomin is a Matrioshka (Russian babushka nesting doll) shaped theremin. It is a pitch only instrument and was invented by Masami Takeuchi. Mable is a ensemble of Matryomin players. All members of Mable are expert theremin players who study under Masami Takeuchi. Mable's 1st full CD album "SHOKOU -morgenrote-" will be released on April 8th 2009. But it will be sold only in Japan.
Hope we can get one here somehow!

Congratulations to the Mable Ensemble.