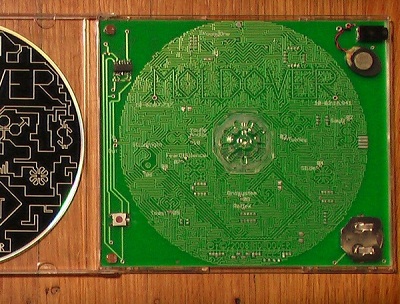 Score another one for originality and creative genius inspired by the theremin! Moldover has released an album housed in a CD case that also doubles as an optical theremin (of sorts).
The CD's insert features a circuit board with all the track titles listed in etched copper as well as a noise generator. 2 optical sensors let you modify the sound. From the demo video (theremin around the 1 minute mark), it's unclear to me what control you actually get over the sound other than modifying pitch over about an octave, but you can't deny it just looks fun to try! The case also features a headphone jack so you can play it on the go or use it in a show. Another version of the case includes a removable miniature version of the circuit board for even more portability.
Moldover is also the creator of controllerism.com, a site dedicated to "the art of manipulating sounds and creating music live using computer controllers and software" (and my new favorite hangout).
You can order your own copy of Moldover's CD from the band's website.
Read: Video: Moldover CD case rocks a light theremin, our socks (Engadget)