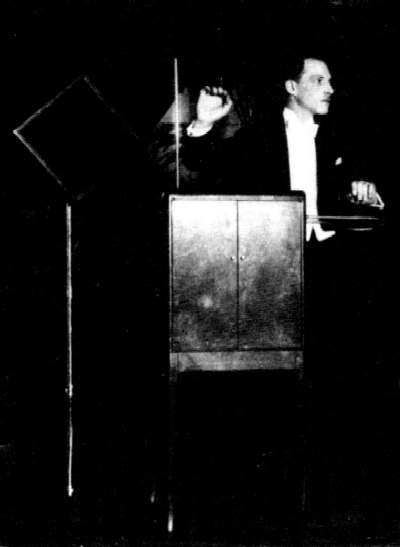 Lev Termem, also known as Leon Theremin, died in Russia on November 3rd, 1993. His invention of the theremin has been key to all of us. It's survival through the years into our times was dependent on the inspiration and hard work of other great individuals like Bob Moog and Clara Rockmore whose lives were touched by Lev and his work. Like ripples in a pond, it is up to us to continue and expand on what Lev started back in 1917 when our wonderful instrument was born.

In his forward to THEREMIN: ETHER MUSIC AND ESPIONAGE by Albert Glinsky, Bob Moog wrote:
""Around this time, the documentary filmmaker Steven Martin contacted me. He told me that he planned to produce a feature-length documentary film on Theremin's life and work, and he asked for my assistance. He wanted to film Clara Rockmore as she played her theremin in public, but her instrument was not working at the time, and in fact had not been working for several years. Martin asked me to come to Ms.. Rockmore's apartment to help restore her instrument. The opportunity to work on an instrument that Leon Theremin himself had built was too attractive to resist, so I agreed to do it. I arrived at Mrs. Rockmore's apartment with my tool kit and test equipment on a Friday. Michael Jansen (Mrs. Rockmore's regular technician) and I completely dismantled her instrument. We found many components that were faulty and had to be replaced. By Sunday afternoon we had reassembled the instrument. Mrs. Rockmore then tried it by playing a few notes. "No" she said impatiently, "it doesn't play right". Michael and I reset some internal adjustments, and Mrs. Rockmore tried the instrument again. "No, it's still not right" she said. Once again, we reset the adjustments. Mrs. Rockmore tried a few notes, then proceeded with George Gershwin's "Summertime" from beginning to end. At the end, tears were in her eyes. She turned to us and said "I was afraid I would never be able to play that instrument again." At that moment I sensed a strong spiritual connection with Leon Theremin, a feeling that remains with me even now. I consider that that moment was the high point of my professional career.""

Thank you Lev, we remember and we'll carry it on!