photos Jennifer Tse

Blogger Jennifer Tse has been reporting on the diverse buskers playing in the Toronto Transit Commission - TTC. Featured this week was Black Santa, aka Jeff Burke, a professional bassoonist who's been playing in the TTC for 20 years and added the theremin to his act this year. Jeff, is now not just the only subway bassoonist but the the only known subway thereminist in Toronto.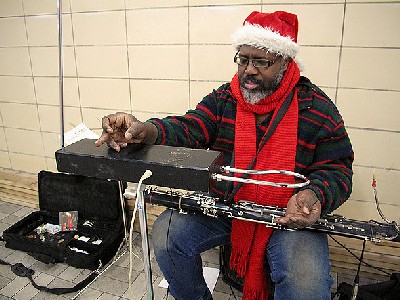 Merging his diverse music experience with the holiday song book resulted in Jeff's album Black Santa.

We'll need to keep an ear out for those aether tones among the clicking hooves of Santa's raindeer up on the roof!